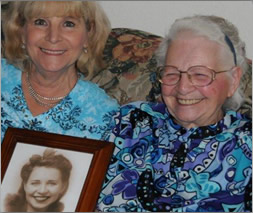 Runner Up
Linda's Story
My name is Linda. I started caregiving when I was about 10 years old, thanks to my mom who had an adult family home. Her clients were from Western State Hospital and some from Rainer Hospital, which are both located here in Washington State. They were mainly mentally challenged young adults and elderly. As I got older, I worked at a few nursing homes with Alzheimer's residents and at another adult family home. My goal for each place I worked was to make each of my client's day the best I could and hopefully, put a smile on their face.
I'm proud to say I must have done something right because when most of the clients were sick, they would ask my boss if she could have me come in. The sad thing for me was sometimes I wouldn't be there but ten minutes and then the good Lord took them home, but what a rewarding feeling I had knowing they requested me.
And now, at age 59 disabled myself, I have the joy of caring for my 89 years young mom. To be able to hear her laugh from another room while watching her old movies or hearing her sing to our little chihuahua is very rewarding to me, plus the fact that I get to see her each day.
Thank you, God. That's what I say each and every day I wake up and soon after, check in on my mom and see her breathing. Thank you, God for letting me have another day with my mom in it. I say to you, how rewarding is that?
Shield HealthCare's
12th Annual
Caregiver Story Contest
Shield HealthCare recognizes the demanding roles and responsibilities of today's caregivers. Whether you are a family caregiver or a home health professional, we would like to hear your story about "What Makes Caregiving Rewarding?". Submit your story for a chance to win a prize!
Top 3 Story Winner Prizes
$1,000 in American Express Gift Cheques
One-year subscription to Today's Caregiver Magazine
Commemorative Wall Plaque
Top 5 Runner-up Prizes
$250 in American Express Gift Cheques
One-year subscription to Today's Caregiver Magazine
This year's Caregiver Story Contest is over, but sign up for our newsletter for announcements and updates about next year's contest.
Sign Up