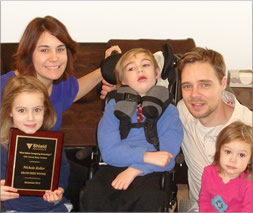 Grand Prize Winner
Nichole's Story
When did I get here?  To this point where I stand calmly in a hot parking lot and watch my son's body convulse?  His limbs go stiff, stick out, then begin to jerk rhythmically.  His eyes look somewhere beyond us.  The color drains out of his face, but his lips turn an ugly shade of blue.  His 4 year old sister remains calm as well.  She asks, "What's wrong with Elijah?"  I tell her, "A seizure."
I don't have to explain it to her, she's seen it before, she's been through this drill many times, she knows what to do. She gently puts her hand on his arm, gets close to his ear and says, "It's okay Elijah, we're here buddy."  I know exactly where his rescue meds are, despite the many months we have gone without needing them.
The pills in one bottle turned to dust because we carried them around for so long.  That dust gave me hope, maybe the boy will never need it again. Four seizures today, after so long without any.  I convinced myself after the first one it was just because he's tired, he's been coughing.  But he hasn't been coughing that much, really.  By the time I found myself in the parking lot watching his lips turn blue, slipped that pill into his dry mouth, I knew it wasn't the cough, it's this ugly disease. 
Caregiving is my life.  When I became a mother to my son Elijah, I imagined the days ahead full of typical boyhood things. They were for a while. We played balls, cars, trains, tried to learn to ride a tricycle and when his sister came along, they got into fights. But right before Christmas when Elijah was 4 it all changed.  My life went from a mother chasing her son through the park to a mother with son who was having uncontrollable seizures and no longer walking or talking.  My son has Batten disease, a rare neurological disease with no cure. Life expectancy is 8-12 years old, Elijah is almost 7, and I am now a full-time caregiver to him.  He can no longer walk, talk, see, eat through his mouth or play with his toys or his sisters.
What makes it all worth it are those times when people come up to me and tell me that I am an inspiration to them. Watching me give my all to Elijah every day has inspired others. Many days I want to give up, I don't want to watch my son lose any more to this disease, I don't want to put in all the time it takes to care for him, but the knowledge that I encourage others keeps me going.
It is rewarding to see my daughter learn from watching me take care of her brother.  What a warm and giving heart she has!  She is eager to help take care of him and helps with her younger sister as well.  I can see her growing up to become a caregiver herself, what a wonderful inheritance for her. 
Elijah will only be with me for a short time. More than the beauty of a flower, he is so precious to all of us,  he is so beautiful and his smile is contagious. As long as I have this beautiful gift, I will love him right here in my arms, and the impression he will leave in us will be permanent.
Shield HealthCare's
12th Annual
Caregiver Story Contest
Shield HealthCare recognizes the demanding roles and responsibilities of today's caregivers. Whether you are a family caregiver or a home health professional, we would like to hear your story about "What Makes Caregiving Rewarding?". Submit your story for a chance to win a prize!
Top 3 Story Winner Prizes
$1,000 in American Express Gift Cheques
One-year subscription to Today's Caregiver Magazine
Commemorative Wall Plaque
Top 5 Runner-up Prizes
$250 in American Express Gift Cheques
One-year subscription to Today's Caregiver Magazine
This year's Caregiver Story Contest is over, but sign up for our newsletter for announcements and updates about next year's contest.
Sign Up