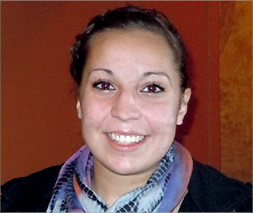 Runner Up
Shaylinn's Story
I've been thinking of what makes care providing rewarding and one thing that is most prominent is the feeling you get when you know your attitude or gesture of compassion inspired someone who lives minute to minute or experience to experience to live a more fulfilling life. Every day I go into work, as a care provider knowing that my residents will not thank me for what I do, remember me once I leave at the end of my shift or even after I leave the room, but what I do know is my attitude and my efforts do not go unrewarded. My reward is not a thank you, but a reciprocated feeling, a feeling of happiness. Not a new memory, but a lingering feeling that gives them something to hold onto in abyss of loss and confusion. Simply saying thank you for what you do as a care provider does not suffice once you have seen the result of your care not only instantaneously in a resident's demeanor, but watching it persist in their everyday experience.
Alzheimer's disease strips many things from a person, but it does not take away their sense of feeling. They might not understand I love you, but they understand a gentle touch, a hug, a glistening smile or that tender look in the eyes of someone who truly cares. Seeing someone glow and smile because you made their day worthwhile is the most inspiring thing in my opinion. They may not know what made them happy, but you know, I know that simple thing you did gave them one positive reason in a slew of negative, to keep on going. I have a resident whose disease hasn't progressed as much as others, he is able to perform most ADL's on his own and he occasionally forgets a thing or two, but he is perfectly aware that he has dementia and sometimes needs help. He takes most struggles with a cup of joe, time and a good talk with one of the staff members. It is always a great pleasure when he chooses that staff member to be me. We often find each other on the floor, where he conveniently places himself when he is looking for attention. I have found that it is more beneficial to his needs to join him rather than pass him by as another resident with a behavior. We lay on the floor and often he starts off with a dirty joke and tells me…you know darling I'm just a dirty old sailor looking for love. This love he speaks of is not the romance type, but the kind where a good friend puts effort into being a part of your life even if it's the fifth time that day. It doesn't matter, because all anyone needs is to know they are wanted, loved and that someone no matter how short lived the relationship is cares. I've known him for almost a year, but to him we just met and I have the positive spark he needs at this time. At the end of our chats, I help him off the floor and I give him a big hug. The kind that last so long, you feel as though if you were to let go you couldn't stand on your own. Usually after this talk and hug, he won't get on the floor again. He won't sleep his day away, but he will enjoy the sun on the patio or crack jokes with the other residents and if I'm lucky he'll hug someone else and pass the feeling on. This is what I find most rewarding about being a care provider.
Shield HealthCare's
12th Annual
Caregiver Story Contest
Shield HealthCare recognizes the demanding roles and responsibilities of today's caregivers. Whether you are a family caregiver or a home health professional, we would like to hear your story about "What Makes Caregiving Rewarding?". Submit your story for a chance to win a prize!
Top 3 Story Winner Prizes
$1,000 in American Express Gift Cheques
One-year subscription to Today's Caregiver Magazine
Commemorative Wall Plaque
Top 5 Runner-up Prizes
$250 in American Express Gift Cheques
One-year subscription to Today's Caregiver Magazine
This year's Caregiver Story Contest is over, but sign up for our newsletter for announcements and updates about next year's contest.
Sign Up