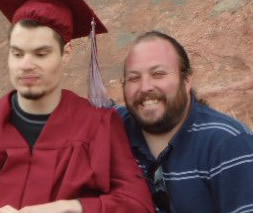 Grand Prize Winner

Don's Story
What makes 23 years of caregiving rewarding? What makes it worth becoming a full-time caregiver and stay-at-home dad? What makes waking up every day, changing a blind 23 year old's clothes and adult diapers, fixing and feeding him every meal of the day, carrying him because he can't walk and guessing at what he wants/needs because he can't communicate well rewarding? Dad probably wouldn't answer that for you; that's just not his style. But I know what the rewards are – I saw it every day growing up with D.J. and I still see it every week when I go home to visit.

It's a gargantuan task to caregive. Don didn't have a choice. At 19, he became my father, and at 20, he became D.J.'s too. D.J.'s disabilities are so numerous, I don't think I even know the full spectrum, but you'll never find that to be a problem for him. What are D.J.'s favorite things in life? Pudding, the toy cop car he has favored to death for years, head scratches, car rides - the simple things. Dad's always had to deal with the tough things: Tegretol at 3 specific times a day for over a decade, cleaning up when D.J. wets through or gets sick in the middle of the night, standing at the bedside when D.J. was practically rebuilt from the waist down and having to watch his normally happy son experience after-surgery pain without being able to do anything about it. I've never seen Dad break down and cry about it either – he just deals with it.

So what are the rewards our dad reaps from all this? As it is with D.J.'s favorites, it's the little things. Dad smiles when D.J. smiles, and one of the best ways for baby brother to grin is when Dad sits next to him with his favorite dessert - pudding, or "puh-puh" as D.J. calls it. Hand him a snack-pack of pudding and ask what it is and he'll tell you, giggling contagiously while Dad chuckles. Though he has his own chair, D.J. mostly chooses to hang out on the floor, tapping on his favorite cop car toy, listening to the T.V. or radio, and just relaxing or napping, and Dad has no issue lying down next to him on the floor to join in. The best part? Eventually, D.J. will start rubbing or tapping on Dad's head and belly, and make happy, humming sounds, something Dad laughs about every time. He keeps D.J.'s hair short, but he makes sure D.J. still gets some head attention. He'll sit next to D.J. after feeding him and start scratching his head. Baby brother closes his eyes, smiles, giggles, and hums, even "farts" his hands (no idea where he learned that).  He'll also eventually start up a mantra of "bye-bye," which equates to him wanting to go somewhere in the car. We figure he just really likes the sensation of the car moving; he can't get enough of going bye-bye!

The reward? When he's in the car with Dad, suddenly there will be a "Duh-duh" (Dad), and Dad will reply, "Yeah, little buddy?"

"Wuv te" (love you). "I love you too, buddy. Give me a high-five. 

Dad's rewards are often seemingly small in contrast to what he has to do to keep D.J. happy and healthy, but don't be fooled; what they lack in complexity, they make up for in multitude. Every day, Dad gets smiles, giggles, happy hums, high-fives, hand farts, and "wuv te" in spades. He is quite fond of asking D.J., "Are you my buddy? Are you my pal? Are you my buddy and my pal?" and the answer is always yes, even if he would trade everyone in the world for a bye-bye ride (and he would, just ask him). For Dad, the little things are the rewards and what makes caregiving rewarding.
We received many outstanding and heartfelt stories in this year's Caregiver Story Contest. With just 9 winners chosen out of more than 260 inspirational submissions, Shield HealthCare is recognizing 20 of our finalists in our 5th Annual Readers' Choice Contest. After reading each caregiver's story, choose your favorite and place your vote! Only one vote per person will be accepted.

Is your story featured? Share this page with your friends and family and encourage them to vote as well!


The Top 3 Readers' Choice Contest Winners with the Most Votes will Receive:
$150 American Express gift card
Contest runs from Feb. 1 – Feb. 29, 2016.
This year's Caregiver Story Contest and Readers' Choice Contest are over, but sign up for our newsletter for announcements for next year's contest.