A day in the life of 7-year-old Kumaka is full of adventure and limitless activity. Although he was born with Spina Bifida, his philosophy is "I am not different from any other kid. My wheelchair does not stop me from doing what I want to do." And what exactly does he like to do? More than his parents ever imagined!
Kumaka is an amazing athlete with an impressive portfolio, including wheelchair skateboarding, basketball, tennis, WCMX, track, surfing and so much more! The Challenged Athletes Foundation (CAF) granted him a racing wheelchair in April 2014 to further develop his athletic ability.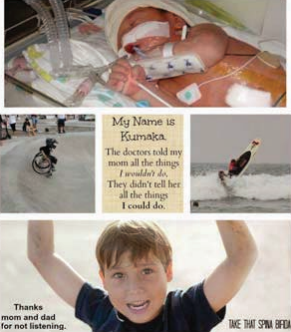 Thanks to the Make-A-Wish Foundation, Kumaka and his family experienced a week's vacation to Walt Disney World last year. The entire family, including his four big brothers experienced the magic and wonder that dreams are made of. It's no surprise he shares his amazing life via social media, as a beacon of hope and shining example of determination beyond limits.
Words cannot express what an inspiration Kumaka is to all of us at Shield HealthCare and we are truly honored to be his home medical supply resource, providing him the products he needs to live life to the fullest.
"I am learning to live beyond my wheelchair."
-Kumaka J.