Congratulations to Runner-Up winner Ali T. from San Diego, California. Ali is a mother and full-time caregiver of three-year old Samuel.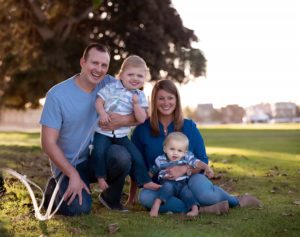 Samuel spent his first year in the NICU where he fought daily for life in order to become stable enough to come home. He was diagnosed at 14 weeks during pregnancy with the fatal condition Pentalogy of Cantrell.
Through many surgeries, heartaches, and hard decisions, Samuel eventually came home. He is ventilator and oxygen dependent, non-ambulatory, and requires 24-hour care. I am a Physical Therapist, but there was no question between me and my husband that I would give up my career and be Samuel's full-time caregiver. We wanted to give him the best quality of life for whatever duration the Lord granted us with him.
One aspect of quality of life that we try to embrace is enjoying the outdoors, especially running. I pack Samuel, his oxygen tank, ventilator and our one-year-old son, totaling over 75 pounds, in a double jogging stroller and take off running daily.
For me, this is how I let go of any stress, pain, difficulties and share my lifelong passion of running with my precious boys. Samuel is unable to walk or run, but he feels such freedom while I push the stroller running, which gives me such joy to watch. With my husband's help, I have been able to start competing in races again, which gives me a personal goal to push towards daily. Being a full-time caregiver can be emotionally and physically challenging, but for us, we were able to find an outlet that takes the focus off of Samuel's inability to perform the basic necessities of life of breathing and eating, and instead focus on the joys of enjoying God's creation.
Since Samuel was in the NICU for his first year, he never saw or felt the pure sunshine, so running with him is also a way I can fulfill a promise I made to him, allowing him to be outside when we thought he would spend all his days within the walls of the hospital.
Running has given me the balance I have needed in being a caregiver to maintain a healthy mental, emotional and physical being while also enjoying precious time with Samuel. For any caregiver, I have seen firsthand how important it is to have an outlet in whatever you enjoyed prior to being a caregiver. An extra benefit is when you are able to enjoy that activity with your loved one you are caring for.
---
Winners were selected by a panel of independent judges: Margarita Bermudez, the Manager of Professional Training and Healthcare Services at Alzheimer's Los Angeles; Amanda Hlynosky, RN, BSN, a critical care nurse at Cleveland Clinic; and Leigh Ellen Key, Executive Director for Crohn's & Colitis Foundation, South Texas and Louisiana/Mississippi Chapters. Click here to learn more.