Congratulations to Runner-Up winner Brenda B. from Olympia, Washington. Brenda is a mother, full-time nurse and caregiver for Jordan L.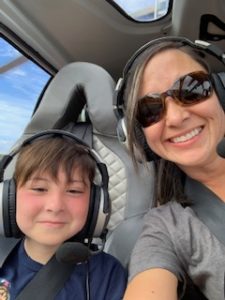 As a caregiver, mom and a full-time nurse, it's hard to find a good balance with the many roles. I do believe, first and foremost, that getting enough rest is most important. On my days off when my child is at school, I will force myself to take a nap or watch a movie. This down time is vital. Down time helps me to rejuvenate so I have the energy to perform the necessary daily caregiving tasks for my child.
Second, plan vacations. I have found that it is super important to have something to look forward to. Having a child with special needs comes with many challenges, so having quality time together and getting away from daily routines gives us an opportunity to enjoy ourselves.
Last, I must find things to be grateful for every day. If I am busy focusing on the positive things we have in our lives, I don't have time to feel bad about the challenges that can arise with being a caregiver. Having gratitude allows me to embrace the challenges.
---
Winners were selected by a panel of independent judges: Margarita Bermudez, the Manager of Professional Training and Healthcare Services at Alzheimer's Los Angeles; Amanda Hlynosky, RN, BSN, a critical care nurse at Cleveland Clinic; and Leigh Ellen Key, Executive Director for Crohn's & Colitis Foundation, South Texas and Louisiana/Mississippi Chapters. Click here to learn more.