Congratulations to Runner-Up Winner Melissa J. from Greeley, Colorado.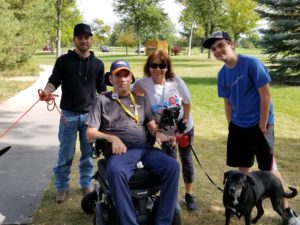 You have to learn to let things go that really don't matter. Leave your bed unmade in the morning – it can be a reminder to take a short nap. Clean one bathroom or just do the dusting – why spend half of a day cleaning your house?
Time with your loved one or taking a break to do something that gives you joy is more important. Also, seek little things that make you smile – observe a bird, buy yourself a bouquet of flowers at the store, really stop and look at the sunrise or sunset, ask a friend to bring you a Starbucks. These can serve as tiny rewards to look forward to each day.
You may not be able to take a week-long vacation or even a day for yourself, but you can give yourself these little gifts to keep you energized if only for a few hours. Staying organized also helps so you don't waste any precious time trying to find things or run in circles. I find making a list of things at the beginning of each week and checking them off helps me see how much I really am doing so the days I don't get anything "extra" done are okay.
Finally, end the day enjoying some peace and quiet by yourself – even just 10 or 15 minutes before bed can feel like a huge indulgence when you're a caregiver. Be kind to yourself!
---
Winners were selected by a panel of independent judges: Margarita Bermudez, the Manager of Professional Training and Healthcare Services at Alzheimer's Los Angeles; Amanda Hlynosky, RN, BSN, a critical care nurse at Cleveland Clinic; and Leigh Ellen Key, Executive Director for Crohn's & Colitis Foundation, South Texas and Louisiana/Mississippi Chapters. Click here to learn more.