You have probably read some of the alarming headlines on Zika virus and microcephaly in South America. Amid the Zika media frenzy, some individuals have helped raise awareness of microcephaly by sharing their personal stories. Supermom Gwen Hartley (whose blog is linked below) has been featured in several recent news posts, and her interviews have done much to improve awareness of microcephaly. Listen to her message for families affected by Zika virus and microcephaly here.
If you would like to know more about Zika virus or microcephaly, you will find some helpful information in the FAQs section at the end of this article.
4 Blogs on Life with Microcephaly
At Shield HealthCare we work closely with families with a wide variety of health conditions, including microcephaly. In the spirit of raising microcephaly awareness, we would like to share a few fantastic blogs on living with microcephaly.
To visit any of the blogs, simply click the featured photo.
1) The Hartley Hooligans Blog
In the Hartley Hooligans Blog, Gwen Hartley shares the story of her adventures with 3 children: Cal, Claire and Lola. Her blog posts are full of honesty, positivity, and unbelievable humor. There is some feisty language in this blog, but don't let it scare you off. This lovely mom will put a smile on your face.
2) The Ottaway Family Blog
The Ottaway Family Blog is managed by Amy Ottaway, who shares her journey of raising sons Jack and Dylan. Amy writes to support new mothers of children with microcephaly, to create an online space for sharing experiences, and to provide helpful information.
3) Baby Henderson Blog
In this blog, Jenn Henderson shares stories from the life of her daughter Addie. She writes to teach the world about microcephaly and end the stigma about the condition. In her words: "Microcephaly does not define my daughter, nor does it define our lives. Microcephaly is a diagnosis, a written word."
4) Lillian Grace : A Blog About Polymicrogyria
Sandra S. from Texas writes this blog about her daughter Lillian Grace and her variety of medical conditions. In her own words, this is "a blog about polymicrogyria, microcephaly, epilepsy, cerebral palsy, hearing loss, congenital CMV, hemispherectomy surgery………….and a sweet determined baby girl!" Sandra S. also writes to educate expecting families on CMV risk, prevention, and treatment (See CMV and Microcephaly section below.)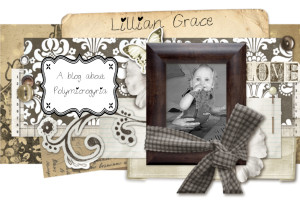 ---
FAQs: Zika virus and Microcephaly
What is microcephaly?
Microcephaly is a condition that results when a child's brain does not form as fully as expected. This results in children being born with a smaller-than-average head size. The underdevelopment of the brain can range from mild to severe, with multiple resulting complications. Microcephaly is a general condition which can be caused by a variety of factors other than Zika virus. It can occur due to a genetic condition, or as result of another problem such as a virus. Causes of microcephaly include viral infections during pregnancy (like rubella or CMV), substance abuse during pregnancy, malnutrition, or genetic abnormalities.
What is Zika virus?
Zika is a virus that is transmitted by mosquito bite or contagions in body fluid. Most people who get Zika do not have symptoms. In fact, only about 1 in 5 infected persons show any symptoms. The symptoms of Zika are usually mild, but in some cases it has caused temporary paralysis which could be life-threatening. The virus has also recently been linked to microcephaly in newborn children.
What is the relationship between Zika virus and microcephaly?
Zika virus has not been well studied and at this point its relationship to microcephaly is unknown; however, it is possible that Zika virus and microcephaly are linked. Zika virus appears to be transmitted from mother to child during pregnancy, but this needs to be studied further. Zika virus is believed to cause neurological or autoimmune problems, which can cause issues with baby's development during the course of the pregnancy. Researchers are currently studying the possible link between Zika virus infection and microcephaly.
Update: The Centers for Disease Control and World Health Organization have confirmed that Zika virus are linked, and that Zika can cause microcephaly in unborn children. 
What is CMV?
CMV (Cytomegalovirus) is a common virus that has been shown to cause microcephaly and other issues during development. Like Zika virus, most infected people do not have symptoms with CMV.  This can be a problem for pregnant women who become infected and are unaware. Because the virus is common, CMV is at this time a larger concern for expecting families in the United States than the more famous Zika. For more information on CMV and microcephaly, please read A Plea To Expectant Mothers by Sandra S. on her blog "Lillian Grace…" (featured above.)
More resources
Raising a child with special healthcare needs? Here are some helpful resources: http://www.shieldhealthcare.com/community/grow/2015/06/03/grow-community-helpful-links-and-resources/
For more information on the supplies we offer please visit http://www.shieldhealthcare.com/
Sources: