Parents of Children with Special Needs – Talk to Your Kids about Their Diagnosis
We parents of children with special needs are obligated to keep our kids safe. When they are little we put up protective gates in front of the stairs, or fences around pools. As they get older, the time inevitably comes when they need to look out for their own safety, and as parents we teach them how to do so.  We show them how to walk downstairs or how to swim. It works the same way with health, especially when your child has a potentially serious disease.
My son Sam has Retinopathy of Prematurity (ROP) Stage 3 disease. This was due to his premature birth at 25 weeks which resulted in him having to receive ventilator support for two months.  Fluctuations in oxygen puts premature babies at a higher risk of developing this disease. Stevie Wonder has ROP, which caused his blindness. Sam, thankfully, only requires glasses.
Sam's vision will most likely continue to deteriorate. His chances of retinal detachment will increase as he ages. This is an unfortunate side effect of the disease. Proper eye health for him is tantamount. He will need to be followed regularly by an ophthalmologist and/or retinologist for his entire life.
When Sam was was old enough to comprehend what I was telling him, I told him the seriousness of his disease. I told him he was responsible for letting us know if there were any changes in his vision.  Flashing lights, seeing black spots, or any sudden loss of vision could indicate a possible retinal detachment. In other words, he could go blind if symptoms were left untreated. This, understandably, scared him. He cried about it, which was heartbreaking to hear. As parents, we want to protect our children from bad news. This was something Sam had to do for himself though, and the only way he could do that was to be fully aware of potential symptoms.
A few weeks ago that awareness paid off. Sam was experiencing flashing lights in his peripheral vision.  He immediately stopped what he was doing and ran upstairs to let me know. My husband made a call to a local pediatric retinologist. Sam was seen first thing the next morning.
I'm happy to say Sam is fine, but I'm so glad we told him what to expect. With retinal detachment, time is of the essence. Only about ten seconds elapsed between Sam having the symptoms and letting me know!
Sam learned that day that he plays the most important role in maintaining his health. Arming kids with the information to help take care of themselves is so important. It may be scary for them at first, but awareness can prevent truly bad things from happening.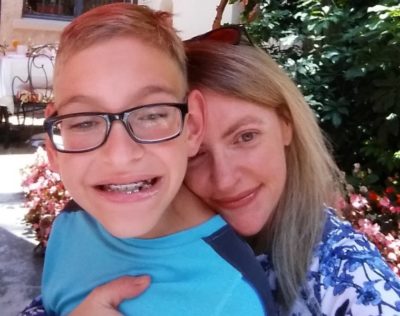 More Articles for Parents of Children Special Needs –