Feeding Tube Accessories: How to Improve Life with a Feeding Tube
Keeping a feeding tube secure, clean and safe is important but can have a fun twist. Many feeding tube accessories are available, created by caregivers and manufacturers to secure the tube and make life with a feeding tube easier and more fun. From FDA-approved retention tape for NJ and NG tubes, to onesies with built in ports for efficient G-tube access; comfort and security is available for children in kid-friendly designs.
Sticker Tape
Kids Hope Chest offers FDA- approved stickers for children with nasal feeding tubes. These latex-free stickers come in fun shapes and colors, including dinosaurs, robots, hearts, and butterflies that safely secure tubing to the cheek. For a child with a NJ or NG tube, a bright sticker can offer much more fun than plain white medical tape.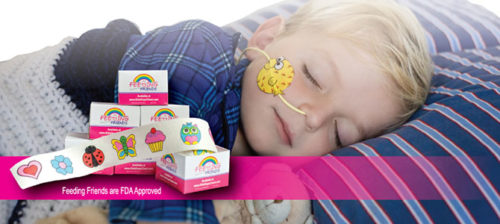 Button Pads and Covers/Belts
Button pads protect the skin around the feeding tube against irritation and moisture and are washable for safe, continued use. Not all children need to use a dressing or button pad with their feeding tube. If your healthcare professional has suggested the use of a dressing, reusable and washable button pads can be a comfortable, fun and environmentally-friendly alternative to gauze.
Homemade covers and belts can be worn under the clothes, help secure the g-tube to prevent snagging and to promote safe patient activity by containing all parts of the button and tube.
Tip: Remember to keep the skin around the tube clean and dry. Always change the dressing as soon as it becomes wet or moist.
Available from Abilitee Adaptive Wear & Kids Hope Chest
Available from Fashion Tubies & Tubie's Closet
    
Benik Corporation supplies custom neoprene G-tube protective belts for all ages. The tubing is threaded though the belt and has an access port protected by a Velcro flap. A soft cover or hard turtle shell cover is available for extra protection.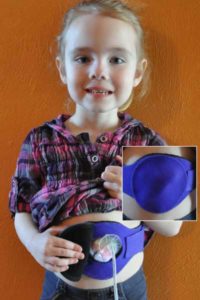 Adaptive Clothing
Stylish clothing made with access points for efficient G-tube access, making feeding easy on-the-go.
C. C. Moo, Lotsa Brave People, & Abilitee Adaptive Wear
Other Feeding Tube Accessories
Tubie Pockets supplies mom-made pockets that pin to clothing to hold NJ and NG tubes safely while not in use, keeping the tube clean and secure. Hanging pockets slip over feeding bags without disturbance and have extra room for ice-packs to keep bag cool for an extended period of time. Custom sizing is available.
Lemon Drops offers a wide variety of homemade items proved useful in and out of the hospital and everywhere in-between. Including common products featured above, Lemon Drops can custom make weighted blankets, waterproof pads, hospital gowns and more.
Syringe holsters can be adapted to hold any supplies necessary for enteral feeding including the syringes themselves, gauze, and lubrication jelly.
Cord and connection covers help keep the equipment safe and clean. Preventing cord tangles and snags, and keeping connections stable and together, covers also provide a punch of color.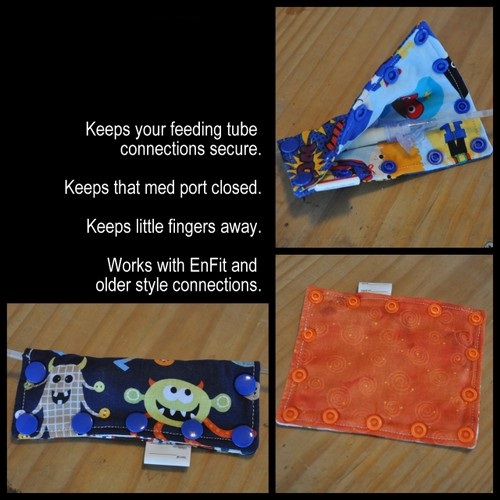 For more feeding tube accessories:
More Articles on Tube Feeding Your Child:
Featured image courtesy of Life with the 'Tars