It's October. The costume search has begun. But I stopped combing the racks long ago. My oldest son, Charlie, has cerebral palsy and is in a wheelchair. He also doesn't like the feel of felt or satin or Velcro or basically any of the other materials in pre-made costumes. Between his wheelchair and sensitivities, those off-the-rack Paw Patrol and fireman costumes are almost impossible to negotiate. As a result, I've learned how to jazz up the chair with wheelchair costumes and leave Charlie free to wear pajamas or sweats or whatever he wants that makes him comfortable and still be costumed when it's time to hit the streets.
So, in the spirit of fashion for all abilities, I'm sharing a few easy ideas for Halloween costumes that can be adapted for wheelchairs. Happy trick or treating everyone!
Elliot and E.T.
This is one of my favorites and it's SO EASY. Attach a plastic milk crate to the front of your child's handles and plop a stuffed ET in there and it's instantly Elliot on his bike riding with an alien in his basket! And if your child wants to, he or she can wear a red hoodie to complete the look.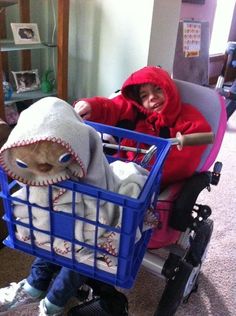 Ice Cream truck
The first step and most obvious costume addition for this one is to download the ice cream truck song on your phone. Set it to repeat and get some ice cream decals or cut out the sides of ice cream and popsicle boxes and paste them all over the chair. If you really want to get into it, have your child wear the classic ice cream hat and carry an ice cream scoop!
R2-D2
This one's great as it plays up on the metal/rubber/alloy of the already robotic wheelchair look. And everybody loves Star Wars. So, grab some foil and blue sharpie and cover the wheel guards along with the back of the chair. Hand your kid a flashlight for R2-D2's eye. He or she can light the way for the rest of the trick-or-treaters.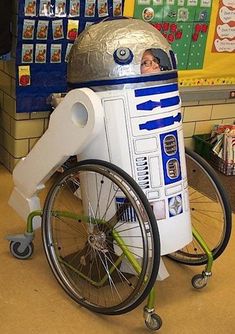 Horse and Royal Carriage
This is where I ask you to really commit. Let your kid dress up as his or her favorite prince or princess and then attach a broomstick handle on either side of the chair just under the seat and inside where the wheels attach. This will be the reins/handle portion of the carriage. Lastly, and here's where the serious commitment comes in…you're the horse. Use whatever you want to dress as your equine alter-ego, pick up the broom handles and get to pulling. I can't think of a single kid who wouldn't like to tell his or her parent to "giddy up."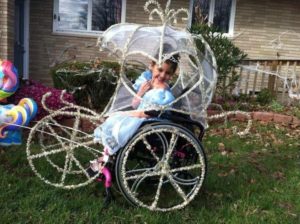 Lucy from Peanuts
Remember Lucy's "Psychiatric Help" stand? That's what you're making. Just attach a white poster board to your child's tray to form the stand and write the classic words: "Psychiatric Help: 5 cents, the doctor is…" and then you can hang an index card that says "In" on one side and "out" on the other! All Lucy needs is a blue dress and giant bow and you're good to go. This could also work for a lemonade stand.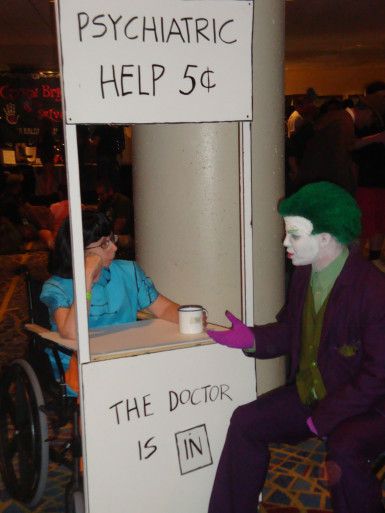 This list above is just a sampling to get you thinking about wheelchair costumes. Consider those wheels as the best pre-formed costume you could ask for and then expand on it—tractor, oven, giant radio or iPod, Starbucks kiosk, Bat Mobile, unicorn, hockey penalty box, Thomas the Train, excavator, hot air balloon, Harley Davidson, Santa's sleigh. The possibilities are endless.
Here's to making sure Halloween is as inclusive as it can be!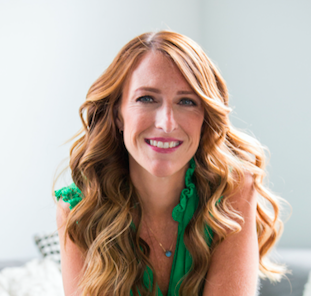 Jamie Sumner is a special needs mom, author and blogger.
Discover her new book, Unbound: Finding Freedom from Unrealistic Expectations of Motherhood.
Read her blog, The Mom Gene.
Follow her on Facebook.
More Articles Related to Parenting a Child in a Wheelchair: