We are starting to see differently-abled representation in stores—finally. Beauty brands like Ulta and fashion brands like Aerie and all-purpose brands like Target are beginning to display men and women in wheelchairs or with prosthetics and walking aids. It's brilliant and beautiful and inspiring for me to see. More importantly, it emboldens my son, Charlie, who has cerebral palsy and a wheelchair of his own. The new wheelchair-friendly costumes at Target were enough to get a cheer out of him as we scrolled through the selections on line.
It's getting better on the big screen as well. With shows like Atypical, Speechless, Parenthood, Big Bang Theory, and Breaking Bad, we have seen young men who are different finding their way in the world. They normalized their experiences for the next generation of children with disabilities. They also raised much-needed awareness in  the neurotypical community of what it's like to live a different kind of life.
But you know what we don't see in all these portrayals? We don't see women filling this same role and meeting these same needs for differently-abled girls growing up in society today. Charlie has several female friends who show up to school or horseback riding therapy or the sensory-friendly theatre in their wheelchairs and leg braces and pink "Girl Power" backpacks. They need role models too. They need to see a female presence on the screen just as much as in the stores where they shop.
According to the U.S. Census Bureau, one out of every five people in the United States has a disability. That's 20% of the population. If we expect television to accurately reflect our world, then that means we need to allocate 20% of the screen time to disabled artists and their stories. And we're getting there—but the media needs to take another look at the picture of the differently-abled world that they're creating. According to an article in BuzzFeed, "disabled TV characters (especially those in top-rated, highly popular shows) are still overwhelmingly white, straight, and male." To put it simply, we need more women represented and we need them now.
Humanity makes sense of itself through stories. We create narratives to work through the social and emotional conflicts in our lives. Even using the universal "we" lends an element of comfort to our existence. It binds us to others and in this way we become a community rather than millions of isolated entities. So we create stories, through books and film and television, that reflect our lives. But the picture remains flawed. Until we start to see more differently-abled women in the media, we aren't producing an accurate image of society.
No one wants to feel isolated. No one wants to feel as if they cannot possibly be understood. The stories we create can go a long way in changing that. It's a powerful thing to be able to watch a show with someone who looks like you or thinks like you or moves like you. And though I love Julia on Sesame Street, we need more. The world as we know it is brilliantly diverse. It's worth celebrating.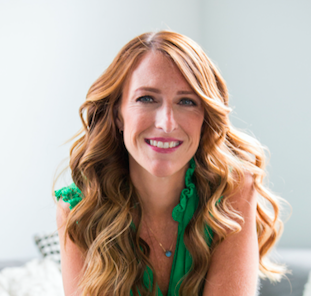 Jamie Sumner is a special needs mom, author and blogger.
Discover her new book, Unbound: Finding Freedom from Unrealistic Expectations of Motherhood.
Read her blog, The Mom Gene.
Follow her on Facebook.