An Autism Diagnosis… Now What?
When my son Ben was evaluated for some behavioral concerns, I was taken aback when the psychologist recommended testing for autism. I didn't suspect it, but she recommended testing as a starting place and I didn't have any better ideas, so we went ahead. When she explained her findings, that my son was in-fact autistic, I had my doubts. But this diagnosis opened the door to Applied Behavior Analysis (ABA) which sounded helpful, so we went with it.
It's now been over five years since that day, and I've learned a lot about autism and ABA. Many of the things I've learned the hard way, I wish I had known sooner.
Our Experience with Applied Behavior Analysis
We have used three different ABA therapy providers and they all have their pros and cons. To begin, we called our healthcare provider to find therapy organizations covered by our insurance. We then called several of the options and chose one that worked for us. During this process, we also confirmed the provider we chose was accredited. Accreditation is important because it's a seal of approval from a governing board that recognizes organizations that go through steps of training and accountability.
Before starting ABA therapy we had to meet with a BCBA (Board Certified Behavior Analyst) to discuss our goals for Ben. There was a lengthy list of questions we answered to help them determine what causes the behaviors we needed help addressing. And we spent plenty of time discussing how the therapy is done and what to expect. We also discussed the ethics of ABA and the training of those who would be working with our child. Most of the hands-on work is done by technicians, and their training varies between organizations. This is why it was important to me to have an organization that maximizes the training and supervision of the ABA technician.
Ben's therapy is done by programs designed to address our behavior concerns and during this time a lot of data is collected throughout the sessions and goals are measured in small increments. To see how things are progressing, we keep in close contact with our BCBA by meeting every two weeks and texting in-between. 
For us, the focus of ABA therapy has been functional communication and tolerating frustration, and designed to reduce meltdowns that interfere with our son's daily life. In the past, his goals have included tolerating medical procedures and washing hands, both of which improved his quality of life and our ability to give him care while keeping him healthy and safe. We're excited to keep going with ABA and and see how he does.
ABA Isn't for Everyone
ABA isn't for everyone, but it's helping my child live his best life. Some autistic adults look back on their ABA therapy with regret, and that is why it's important to check accreditation/training and keep in close contact with your team. If there is ever a goal or practice you aren't fully comfortable with, or if you have ethical concerns, it's important to speak up!
I also recommend seeking out books by autistic adults and following them on social media in order to understand their experiences in their own words. This may help you better understand the experience of your child.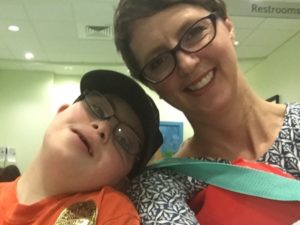 Alethea Mshar is a Special Needs Mom and Blogger.
Read her blog, Ben's Writing, Running Mom
Follow her on Facebook