This free course has already taken place. Contact your local Shield HealthCare representative about scheduling this course as an in-service in your facility.
Click here to find our current available course in our Healthcare Professionals Community.
---
What is Evidence-Based Practice?
Evidence-based practice involves the use of the most credible, up-to-date evidence to guide patient care. It is used to find solutions for difficult patient issues, to provide the best information in order to plan, implement and evaluate care, and to guide patients toward better health practices.
Evidence-based practice stresses protocols and procedures that are based on research, rather than habits based on opinion or the "way we have always done it." Through evidence-based practice, we can improve patient outcomes, improve patient satisfaction, reduce hospital readmissions, and maximize agency reimbursement.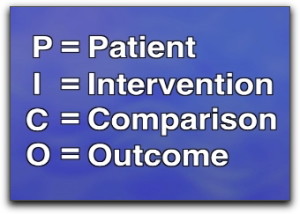 Course Overview
This free online course presents the learner with important concepts about the relationship between medical practice and research, and how evidence-based practice influences decisions, interventions and evaluation of care.
To examine evidence-based care in a day-to-day situation, this program follows a case study between a Nurse Practitioner and a patient with high blood pressure. It utilizes the PICO method to cover the four steps involved in implementing evidence-based practice:
Developing an evidence-based practice question
Finding the evidence
Critically appraising the evidence
Applying the findings and evaluating the effectiveness
This course provides one contact hour of continuing nursing education.
Objectives
After completing this course, the learner should be able to:
Define evidence-based practice
Explain the process for using research to improve patient care
Describe the development of a nursing plan of care using evidence-based practice
Who Should Take this Course
We encourage all healthcare agencies and healthcare professionals who provide patient care to take this course, including:
Hospitals
Physicians' offices
Healthcare clinics
Home health agencies
Nursing homes
Rehabilitation facilities
How to Take This Course
Click on the button below to create an account at www.medcomrn.com/shieldhealthcare. If you are a returning user, use your previous login and password to access the course. After you log in, you will see the course listed in the center of the page. Click on the course link to begin. You can watch the whole video at once by clicking on an icon in the middle of the screen, or take the course chapter by chapter using the left-hand navigation.
You may take the course test and receive your CE credit certificate immediately after completing the video presentation. Once you've created an account, you can use that login to take all other Shield-U courses that will be released this year! A history of completed courses will be kept for your convenience in your account.
Continuing Education Credit
One contact hour of Continuing Nursing Education credit is provided by Medcom/Trainex, which is accredited as a provider of continuing education in nursing by the American Nurses Credentialing Center's Commission on Accreditation*, the California Board of Registered Nursing (provider number CEP 9888), and the Florida Board of Nursing (provider # FBN2818).