Stay tuned to our upcoming events with the Shield HealthCare monthly newsletter! This October we are recognizing: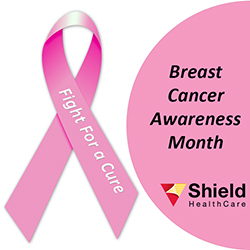 Breast Cancer Awareness Month
Since 1985, Breast Cancer Awareness Month has been recognized across the United States and around the world. Breast cancer affects everyone, not just the person who is diagnosed; nearly 1 in 8 women in the US will develop invasive breast cancer during their lifetime. Family members and friends provide vital physical and emotional care to those fighting the disease.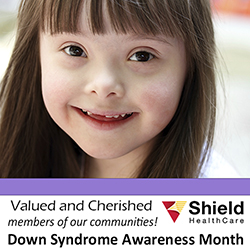 National Down Syndrome Awareness Month
One in almost 700 U.S. babies is born with an extra copy of chromosome 21, the condition known as Down syndrome. Although the only known factor that increases risk is maternal age, 80% of Down syndrome cases occur in mothers under 35.  Awareness month reminds the world that people with Down syndrome are valued and cherished members of our communities, contributing to society in a variety of ways.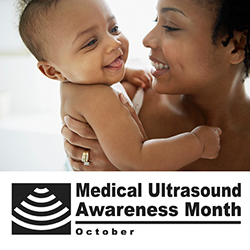 Medical Ultrasound Awareness Month
October is Medical Ultrasound Awareness Month. Diagnostic medical ultrasound is not only used during pregnancy – it is a key procedure that also used to help diagnose heart disease, breast cancer, ovarian cancer and prostate cancer; to diagnose and break down kidney stones, to stimulate bone growth, treat cataracts and much more.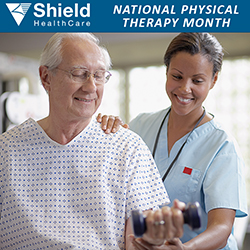 National Physical Therapy Month
Physical therapists play a key role in treatment and/or rehabilitation for individuals with Alzheimer's Disease, Cerebral Palsy, Down syndrome, developmental delay, spinal injury, incontinence, lymphedema, osteoarthritis, Parkinson's Disease, stroke, Traumatic Brain Injury and much more. Physical therapy can be vital step towards achieving long-term results for many conditions that limit an individual's ability to move.
We're just over four weeks into our "What Makes Caregiving Rewarding?" Story Contest, and 106 dedicated caregivers have shared their stories so far!  Last year's grand prize winners included two mothers of special needs children and a daughter caring for her elderly mother with Alzheimer's  Do you have a story about your caregiving experience that warms your heart? For information on how to enter, visit www.shieldhealthcare.com/caring

We hope you sign up to receive our monthly newsletter!  Just look for the "Get Updates from Shield HealthCare" subscription box on any Community page, enter your email address, and you'll receive our newsletter at the beginning of each month.