Stay tuned to our upcoming events with the Shield HealthCare monthly newsletter! This March we are recognizing:
National Nutrition Month® 2014

Why do you choose the foods you eat? If you're like most people, taste wins out over health, social and emotional factors. This month and all year long, "Enjoy the Taste of Eating Right," and you'll fit right in with this year's theme. See these tips from Shield HealthCare's dietitians about ways to make healthy food taste great! Click here to read more.
March is National Colorectal Cancer Awareness Month

Shield HealthCare is joining with colon cancer patients, survivors, caregivers and health care professionals in an effort to raise awareness about colorectal cancer and the lifesaving effects of screening and early detection. When colorectal cancer is detected early, it is one of the most preventable, treatable and beatable diseases. Click here to read more.
Celebrating MS Awareness Week and National MS Awareness Month

Throughout the month of March, we will be helping to raise public awareness of Multiple Sclerosis. Although there is not yet a known cure for MS, most people with MS learn to cope with the disease and continue to lead productive and satisfying lives. For resources and support, visit Shield HealthCare's Caregiver Community. Click here to read more.
What's New at Shield HealthCare?
For the second year in a row, Shield HealthCare is holding a "Show Us Your Healthy Lunch" Contest, back by popular demand. From March 1st-March 31st, post a picture of your healthy lunch to our Facebook wall. The first 100 healthy lunch photos will WIN a custom lunch cooler! Click here to learn more.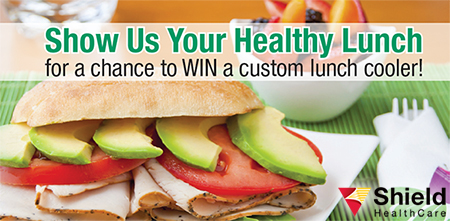 Interested in signing up for our monthly newsletter? Simply look for the "Get Updates from Shield HealthCare" subscription box on any Community page, type in your email address, and look forward to receiving our newsletter at the beginning of each month.
Shield HealthCare | Medical Supplies For Care At Home Since 1957