The Shield Story
Shield HealthCare was founded in 1957 as a small prescription pharmacy business and has since developed not only as a leading provider of incontinence, urology, ostomy, enteral nutrition, and wound products, but also as a partner in the day-to-day lives of our customers. The Kobayashi Pharmaceutical Company purchased Shield in 1990, and in 2006 the Dharma Ventures Group, comprised mainly of Shield management, acquired the company. Though the field of health care has been turbulent throughout our 60 years of operation, Shield remains strong and stable with the experience and expertise needed to thrive as a home medical supply leader.
Our mission to serve the medical supply needs of our patients with excellence and exceptional service is made possible by our incredible employee base. Over 30% of our 400+ employees have been with Shield for more than ten years, a statistic that directly translates to a meaningful and personable experience for our customers.
With a focus on customer care, distribution efficiency, and billing expertise, we are constantly improving our existing systems to meet the changing needs of our customers.
Customer Care
Every month, we follow up with our customers using order reminders to ensure that supplies do not run out.
We employ product specialists, including registered, on-staff dietitians and lifestyle specialists to provide support to our customers.
We support caregivers of our customers with our dedicated resource programs.
Our Skin Preservation Program seeks to identify, resolve and prevent skin breakdown to maintain the skin health of all of our customers, regardless of which product they use.
Distribution Efficiency
We provide local distribution centers that supply deliveries within two business days.
Our teams expertly manage inventory of over 2,500 products.
Billing Expertise
Our internal teams obtain all patient prescriptions and supporting documentation.
We prompt billing to insurance carriers on the customer's behalf.
The Shield Difference
With helpful systems in place such as free delivery, monthly follow-ups, and several online communities we are committed to creating a positive and educational experience for our customers; the results of this effort are displayed in the following graphic.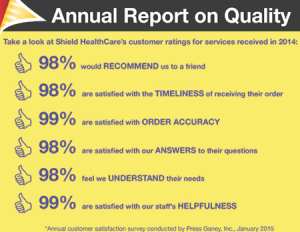 Community
Our various online communities help people in similar situations connect and learn from each other. Specifically, our OstomyLife campaign has allowed ostomy users to discuss various facets of their lives such as odor management, exercise, and dressing with an ostomy. We recently brought on our Ostomy Lifestyle Specialist, Laura Cox, who continues to contribute to the growing community with helpful tips to living with an ostomy.
We invite you to stay connected and explore our patient and caregiver resources on Shieldhealthcare.com and our many social media sites.