Are you interested in attending one of the upcoming Shield HealthCare webinars but aren't sure how to sign up? We can help! In this example, we will be signing up for the webinar on June 22, 2017:
1. Click on this Webinar Link.
2. On this page, scroll down and click on either the "Learn More" button or the "Sign Up" button for any of the webinars that you're interested in.
3. If you clicked "Learn More", then on the next page, scroll down and click on the "Register Now" button. You will then be taken to a page that looks similar to this: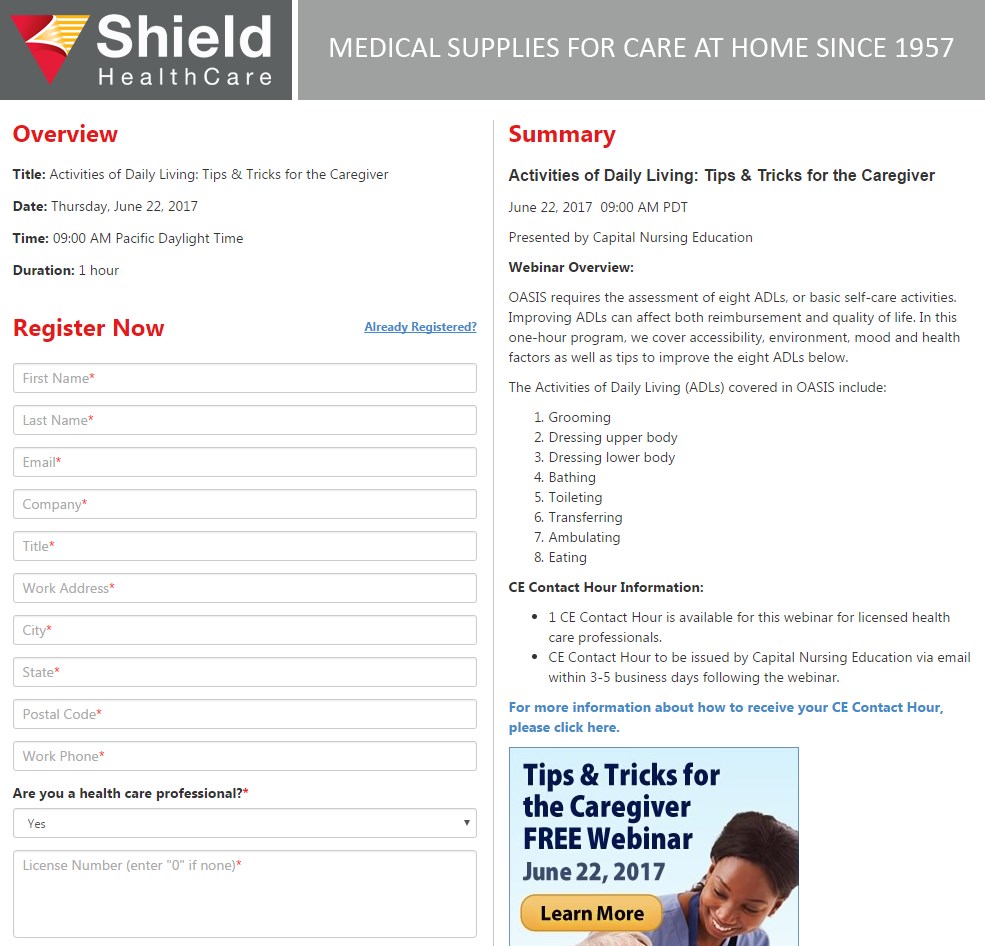 Here you will find information about the webinar itself as well as several fields that require some basic information from you.
4. Fill out the information as needed. Fields that have asterisks (*) next to them are required to finish the registration process.
5. Once each required field is filled in, simply click the "REGISTER" button at the bottom and you are done signing up!
After completing this sign up process, you should receive a registration confirmation email from us with the date, time, and link of the webinar. The email will also provide a link to Test Your System beforehand as well as a plugin that will allow you to add the webinar onto your Outlook, Google, or iCal calendar. Additionally, you should receive reminder emails one day, one hour, and fifteen minutes before the live webcast actually begins.
Important Technical Details: A Troubleshooting Guide for Attending the Webinar
Here are a few common issues that people experience and how to resolve them.
"Help! I can't hear or understand anything!" If the audio of the webinar is not playing or is creating an echo effect from your speakers or headphones, please make sure to check your sound and volume settings. You may also try closing out of any duplicate webinar pages and refreshing the single page.
"Help! I think my screen is frozen!" Please give it a few minutes to make sure that your screen isn't frozen; however, if it's still frozen, then please try refreshing the page. If this doesn't work, then please feel free to reach out to us.
"Help! I registered but didn't receive a confirmation email!" Check your email "Junk Folder." It is possible that the email confirmation was blocked and automatically filed to your junk or spam folder; however, you can easily move it into your inbox.
"Help! I don't want to install this program!" Our webinars require Flash Player in order to work. This software will not harm your computer and is backed up by Adobe. If you happen to have trouble downloading this program, please check your antivirus software and firewall settings.
"Help! I am unable to attend the webinar!" There are a few System Requirements that need to be met in order to attend our webinars. These requirements are very basic and should be covered by any computer purchased within the last 5 years.
If you have any further questions, please refer to this Help Guide or feel free to leave any comments in the section below and we will work to provide a solution for you as soon as possible.