Shield HealthCare is excited to announce the launch of Nuestra Comunidad, our online Spanish language community! Explore Nuestra Comunidad to find helpful articles, resources, education and support for Spanish-speaking visitors, including:
Information on specific diagnoses
Lifestyle tips for patients and families
Uplifting caregiver stories
Support for parents of children with special needs
Nutrition tips from Shield HealthCare's registered dietitians
Additional resources and helpful links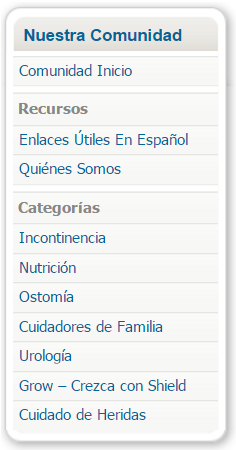 Quick links on the left-hand side take readers to articles specifically about incontinence, nutrition, ostomies, family caregivers, Shield HealthCare's pediatrics program for families of children with special needs (GROW with Shield HealthCare), and catheter and wound care.
Click through to our "About Shield" pages to learn more about Shield HealthCare en Español, or to contact a Spanish-speaking customer service agent. And check back daily for new additions to the site, such as videos and upcoming events.