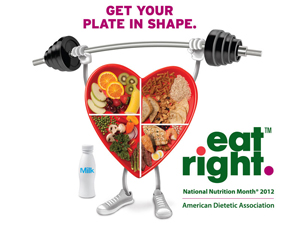 March is National Nutrition Month, an annual event created by the Academy of Nutrition and Dietetics (formerly the American Dietetic Association) This year's theme is "Get Your Plate in Shape."
Find practical information to get your plate in shape at choosemyplate.gov where you can:
• Personalize recommendations for what and how much to eat.
• Track foods and physical activity from an expanded database.
• Customize features such as goal setting, virtual coaching, weight tracking and journaling
National Colorectal Cancer Awareness Month
Cancers of the colon and rectum are the second cause of cancer-related deaths in the U.S. With an average cure rate of 90%, it is imperative to get regular preventative screenings.
Contact a physician if any of the following symptoms last longer than 2 weeks:
• Blood in stool/bleeding from rectum
• Indigestion, bloating or frequent gas pain
• Diarrhea or constipation
• Unexplained weight loss or fatigue
Risk of colorectal cancer can be significantly decreased with proper diet and regular exercise. Aim for 25-30 grams of fiber along with a low fat diet. One study found that every 10-gram per day increase in fiber intake resulted in a 10% decrease in overall colorectal cancer risk.
Source: American Society of Colon and Rectal Surgeons www.fascrs.org
Shield HealthCare carries fiber-containing enteral formulas for children and adults, including: Ensure Immune Health • Pediasure with Fiber • Fibersource HN • Boost Kid Essentials with Fiber
P

E

D

I

A

T

R

I

C

C

O

R

N

E

R
Eosinophilic esophagitis (EoE) is increasingly recognized among children. It is characterized by a buildup of eosinophils in the esophagus in response to foods, allergens or acid reflux. Symptoms include poor weight gain, refusing to eat, vomiting with meals, heartburn, dysphagia, odynophagia and food impaction. Seventy five percent of EoE cases are associated with food or environmental allergens. It is important to work with a team of physicians, specialists and a registered dietitian.
Source: http://www.eosinophilicesophagitishome.org/
Shield HealthCare Featured Product: EleCare® Jr.
EleCare® Jr is a nutritionally complete amino acid-based formula for children over one year old who cannot tolerate intact or hydrolyzed protein. It is indicated for the dietary management of certain medical conditions, including:
• Eosiniphilic GI disorders
• Protein maldigestion and malabsorption
• Severe food allergies
Ask your Shield HealthCare Registered Dietitian for details.
Healthy At Home
Constipation is defined as fewer than three bowel movements per week or a decrease in usual stool frequency, often accompanied by abdominal bloating and discomfort.
Potential Causes and Prevention
Inadequate fluid or fiber | Provide adequate fluid and fiber
Certain medications | Discuss medication side effects and use of stool softener/laxative with physician
Lack of physical activity | Maintain activity as able
Diarrhea is clinically defined as greater than 3-4 large loose stools per day. Keep in mind that liquid nutrition may lead to stools that are less formed than with solid foods.
Potential Causes and Prevention
Rapid infusion rate | Use the appropriate feeding method (bolus, gravity or pump) and advance slowly
Certain medications | Discuss medication side effects and possible use of anti-diarrheal with physician
Contamination | Wash your hands, change feeding bags every 24 hours, hang formula for no longer than recommended duration
Shield HealthCare Uses Sound Clinical Judgment To Care For Your Patients
A physician contacted Shield HealthCare RD, Elizabeth to assist with PJ, a 5 year-old Crohn's disease patient with persistent weight loss and tube feeding complications. After determining that PJ was not tolerating bolus feeds, she conferred with the physician and obtained an order for a portable Enteralite Infinity feeding pump. Elizabeth trained PJ and his parents on the new pump in their home. They were thrilled with her quick response time and the ease of the pump. And Shield HealthCare's enteral backpack is a great tool for PJ's on-the-go lifestyle. He tolerates his feedings well and since the transition, his weight and overall health status have improved significantly.
Advantages of Shield HealthCare's Enteral Nutrition Support Program
• Pump setup within 4 hours of hospital discharge, in most cases
• Expert RDs in all areas we serve
• Direct dietitian-physician communication
• Wellness checks and quarterly nutrition screenings
• Clinical and nutrition in-services for your staff
• Fewer hospital visits for your patients