Feeding Tube Awareness Week, February 5-11, 2012
Tube feeding is often associated with missing an essential aspect of life: eating.
Thanks to increased awareness, tube feeding is now recognized as a lifesaving medical intervention that provides essential nutrition.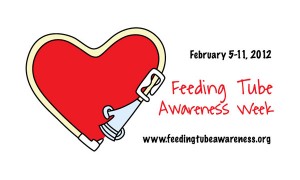 Feeding Tube Awareness Week was developed by "Tubie Mommas and Daddies," a group of parents raising children with feeding tubes. Their mission is to enhance the acceptance of tube feeding, dispel feeding tube myths and share practical experience for parents with tube-fed children.  The Feeding Tube Awareness Foundation website provides resources for types of tubes, conditions associated with tube feeding and ways to get involved.
Last year, Feeding Tube Awareness on Facebook hosted a series of events to engage family and friends of tubies, address common misconceptions and share positive experiences.
Other Helpful Resources:
Shield HealthCare's on-staff Registered Dietitians are available to answer questions and make recommendations to troubleshoot and enhance tube feeding at home. Call your local office or visit us at www.facebook.com/shieldhealthcare
Shield HealthCare's online Nutrition Community regularly provides enteral nutrition newsletters, home tube feeding tips and evidence-based nutrition information. Stay informed and share your comments at  http://www.shieldhealthcare.com/community/nutrition