Looking for the latest ENFit update? Click here.
The enteral device industry is undergoing a major change in 2015/2016. You will notice differences in the feeding sets, syringes and feeding tubes that you use over this coming year and next. These changes are referred to as ENFit.
Shield HealthCare wants to make sure that you are aware of these changes. Read on to find out more!
WHAT is ENFit?
To improve patient safety, manufacturers of enteral devices are required to change the way enteral feeding sets and syringes connect to feeding tubes. The name of the new connection is ENFit.
Enteral tubing misconnection occurs when enteral devices (feeding bags, tubes or syringes) are connected to non-enteral devices, such as IV lines, urinary catheters and ventilator tubing.
ENFit is the new connection standard, developed by an international group of clinicians, manufacturers and regulators as part of the Stay Connected initiative to prevent tubing misconnections.
WHY change?
The Joint Commission identifies tubing misconnection as a sentinel (high risk) event.
ENFit connectors will not allow accidental connection between enteral and non-enteral devices.
WHEN will this happen?
The transition from current enteral devices to ENFit will occur over three phases in 2015 and 2016.*
Each phase will include a change to a different part of the enteral feeding system.
New ENFit Enteral Connector Timeline:A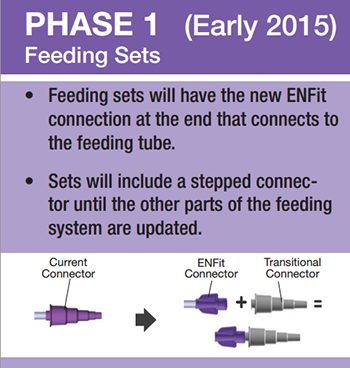 And the new schedule is as follows:
First Quarter (January – March) 2016
Enteral-specific syringes with ENFit tip
Enteral Feeding tubes with ENFit connectors
Transitional stepped connectors and current syringes will remain available while patients make the transition to the new feeding tubes.
Please consult your supplier for product-specific availability and indications.
*All dates are projected estimates and subject to change due to timing of product-specific regulatory review and manufacturer discretion.
Here's how Shield HealthCare is helping to increase awareness in the community about these changes:
Training for healthcare professionals
Training for Shield HealthCare staff and representatives
Notification letters to customers affected by these changes
Close communication with manufacturers
Click here for a full-size printable PDF of the postcard below: Postcard (please be advised that the dates have changed since the creation of this PDF).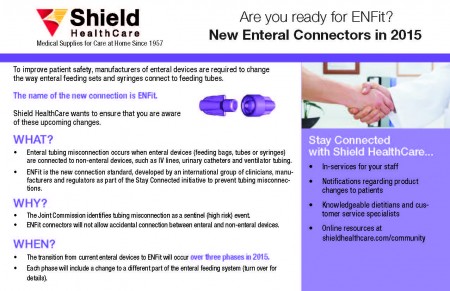 For more information, visit Stay Connected for frequently asked questions and the latest updates on this initiative.
Find more information from Shield HealthCare about ENFit and tube feeding here: