Updated September 10, 2021
Unforeseen events happen. If a severe storm, earthquake or other disaster occurs, you may not have electricity to keep your feeding pump running for longer than a few hours. In case of enteral feeding pump failure due to temporary power outage, you should have a backup plan to safely administer your feedings.
Gravity feeding may work for you as a backup method if your feeding pump is not functioning. Shield HealthCare provides a two-day emergency gravity feeding supply kit with instructions to customers who use a feeding pump.
If you have a jejunostomy tube (J-tube), do not use the gravity method unless your doctor instructs you to do so.
How to Use the Emergency Gravity Feeding Method
You will need:
Gravity feeding set
IV pole
Enteral Formula
60 milliliter (mL) syringe
Cup or waste container
Instructions:
Wash your hands.
Hang the bag so that the drip chamber is positioned 2 to 3 feet above your feeding tube.
Close the roller clamp by rolling it down.
Pour about 240 mL of formula into the bag and close it.
Remove the cap from the end of the tubing on your gravity feeding set and place the end of the tube into a container.
To remove air from the bag and tubing, slowly open the roller clamp and allow formula to travel down the tubing until it is almost to the end, then close the roller clamp.
Using a 60 mL syringe, flush your feeding tube with 30-60 mL of water.
Sit up in a chair, or elevate your torso to 30-45 degrees. Remain in this position for at least 30 minutes after your feeding.
Attach the end of the tubing to your feeding tube.
Use the roller clamp to control the flow of formula. A slower rate will decrease symptoms of intolerance, such as nausea or abdominal bloating.
Allow the formula to drip over 30-60 minutes.
When the feeding is done, close the roller clamp and disconnect the bag from your feeding tube.
Flush your feeding tube with 30-60 mL of water.
Rinse the bag and tubing with warm water and air dry between each use.
Tip: Use a new bag every 24 hours.
Emergency Gravity Instructions
Gravity Feeding: How to Determine and Set Appropriate Flow Rate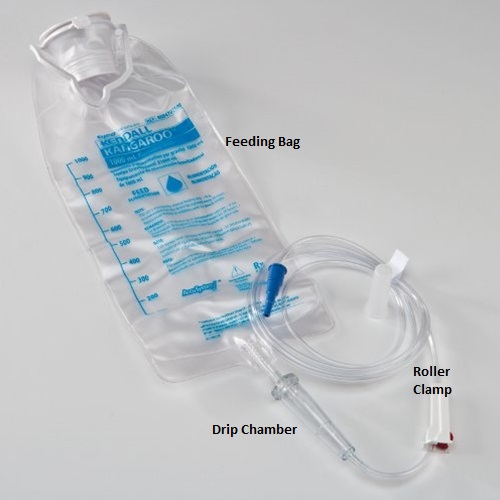 DISCLAIMER: This information is designed for customer use only and does not represent the advice of a medical health professional. Please contact your doctor for explicit advice on your prescription and/or feeding program.