You may need to increase your calorie and protein intake if you have lost weight or are having trouble gaining weight. The following tips and recipes offer simple and inexpensive ways to boost your intake.
Tips to boost your calorie intake:
Eat when you are hungry.
Snack often.
Prepare hot cereals and soups with milk or cream instead of water.
Top vegetables or noodles with cheese, cream sauce or butter/margarine.
Add ricotta or cottage cheese to casseroles and desserts.
Recipes:
Fortified Milk*
1 quart whole or low-fat milk
1 cup powdered non-fat dry milk or protein powder
Blend and chill for at least 6 hours
(211 calories and 14 grams of protein per 1-cup serving)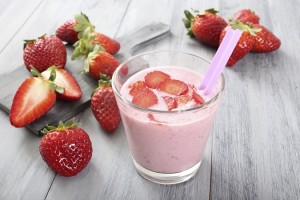 Instant Breakfast Milkshake*
½ cup low-fat milk
1 envelope instant breakfast mix
1 cup ice cream (any flavor)
(450 calories and 14 grams of protein per serving)
*These recipes can be made with lactose-free milk or soymilk instead of low-fat milk.  Blend the ingredients in a blender until smooth and store unused portions in the refrigerator.  Increase flavor and calories by adding fresh or frozen fruit or chocolate syrup.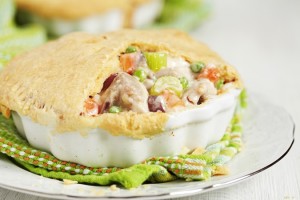 Easy Chicken Pot Pie
Ingredients: 
1 2⁄3 cup frozen mixed vegetables (thawed)
1 cup cooked chicken (cut-up)
1 can low sodium cream of chicken soup (condensed)
1 cup baking mix (reduced fat)
1⁄2 cup milk
1 egg
Instructions:
Pre-heat oven to 400°F.
Mix vegetables, chicken and soup in ungreased, 9-inch pie plate
Stir remaining ingredients in a mixing bowl with fork until blended. Pour over vegetables and chicken in pie plate.
Bake 30 minutes or until golden brown.
Let cool for 5 minutes and serve.
For more information, see related articles and nutrition resources here:
Shield HealthCare | Medical Supplies For Care At Home Since 1957