Whole Grain: Why You Need It and Where to Find It
September is Whole Grains Month, organized by the Whole Grains Council, a nonprofit advocacy group that started in 2003. Made up of 400 members, with scientific and culinary advisers, the Whole Grains Council educates the public on the importance of whole grains.
What is a Whole Grain?
To be considered a whole grain, each of the grains below must have all original components available in the same ratios as if they were still intact. Whether the grain has been milled, crushed or is being sold completely intact, all original parts must be present after processing.
Barley
Brown rice
Buckwheat
Bulgar (cracked wheat)
Corn (including popcorn)
Millet
Oats
Quinoa
Rye
Sorghum
Triticale (wheat-rye hybrid)
Whole wheat
By definition, whole grain products contain the bran, endosperm, and germ. And refined grains only contain the endosperm because the other parts are lost in processing. Removing the bran and germ give the milled grain a longer shelf life and smoother texture, however nutrients are lost. This is why some products are enriched, but even with enrichment refined grains are still low in dietary fiber.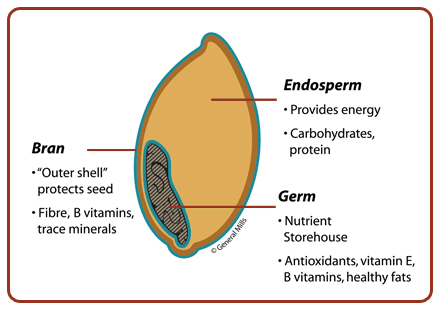 Health Benefits of Whole Grain
Whole grain products are better for you than refined grains because they are more nutrient dense and can help reduce inflammation, lowering risk of disease. Here are some of the health benefits of consuming whole grains.
Dietary fiber can't be digested by humans, so it adds bulk to stool. This helps protect the colon and aids in removing toxins and cholesterol from your body. Fiber also steadies blood glucose by delaying the absorption of sugar from the foods you eat. Here's how eating whole grain helps lower your risk of chronic disease:

Reduces risk of heart disease and cancer
Improves digestive health
Lowers cholesterol and blood glucose levels
Reduces risk of type 2 diabetes
Helps with weight  management

B Vitamins are needed to convert energy in the food you eat to energy for your body to use.

Folate (B9) is used when cells and tissues are growing throughout pregnancy, infancy and through adolescence. Coupled with vitamin B12, folate keeps red blood cells functioning properly. Folate is also known as folic acid. It's important for:

Formation of DNA and RNA
Metabolism of amino acids
Preventing anemia and birth defects

Thiamin (B1) works with magnesium to turn carbohydrates and amino acids into fuel. You need it for:

Energy production
Growth, development and function of cells

Riboflavin (B2) is needed to metabolize folate and iron. It also helps reduce oxidative stress, an imbalance between toxic free radicals and your body's ability to neutralize them with antioxidants. It's good for:

Energy production
Metabolism of fats, drugs and steriods
Growth, development and function of cells
Metabolism of amino acids and vitamins

Niacin (B3) is needed for DNA repair, possibly associated with cancer prevention. Some of this vitamin's functions include:

Energy production
Skin and nerve function

Iron is a mineral that is found in many different foods (plant and animal sources). As components of myoglobin and hemoglobin, iron is essential for oxygen transport from lungs to muscles and supports metabolism. It's particular important for:

Growth, development and function of your cells
Production of hormones and connective tissue

Magnesium is a mineral involved in over 300 systems throughout the body. Magnesium transports ions across cell membranes – important for nerve impulses, muscle contraction and heart rhythm. It's important for:

Protein synthesis, muscle and nerve function
Glucose control and blood pressure regulation
Energy production
Structural bone development
Synthesis of DNA and RNA

Selenium is an essential element found in a variety of foods and is important in many processes through out the body and protects against infection and oxidative stress. You need it for:

Reproductive health
Thyroid hormone metabolism
DNA production
How much whole grain should you eat?
To fully reap the health benefits of whole grain, shoot for 3-5 servings of whole grains per day.
1 cup of cooked oatmeal or whole grain breakfast cereal
1/2 cup cooked rice or pasta
1 slice of whole grain bread
3 cups popcorn (unsalted and air-popped)
5 whole grain crackers
1 (6 inch) whole wheat tortilla
Easy Tips to Increase Whole Grain Consumption
Read food labels – look for whole grain ingredients and high fiber content
Substitute whole wheat flour when baking
Choose brown rice and whole wheat pasta
Whole Grain Recipes
Ingredients
8 ounces whole-grain macaroni noodles, uncooked
1 tablespoon trans fat-free butter spread
1 tablespoon whole-wheat flour
10 ounce bag (2 cups) cubed frozen butternut squash, thawed
2 ounces (½ cup packed) reduced-fat cheddar cheese
Sea salt, to taste
Directions
Boil noodles according to directions. Drain and reserve 2 cups pasta water.
In pot over medium heat, cook butter spread with flour for 1-2 minutes.
Whisk in 1 cup pasta water.
Add squash and cook/mash until smooth. (Note: Add more pasta water as needed for a smooth cheese-like consistency.)
Add cheese and stir until melted.
Fold in cooked noodles until combined and season with salt.
Ingredients
Mix (yields 10 cups dry mix)
4 cups King Arthur White Whole Wheat Flour or Organic White Whole Wheat Flour
1 cup King Arthur Unbleached All-Purpose Flour or Organic All-Purpose Flour
3 1/2 cups old-fashioned or rolled oats
3 tablespoons sugar
3 tablespoons baking powder
1 tablespoon salt
1 tablespoon baking soda
1 cup vegetable oil
Pancake
1 cup homemade mix
1 cup buttermilk, nut milk, or a combination of plain yogurt and milk; or 3/4 cup liquid whey
1 large egg
Directions
To make the mix: Grind the oats in a food processor until they're chopped fine, but not a powder.

Put the flour, oats, and all other dry ingredients into a mixer with a paddle. Mix on slow speed, and drizzle the vegetable oil into the bowl slowly while the mixer is running.

Store in an airtight container for up to two weeks at room temperature, or indefinitely in the refrigerator or freezer.

To make pancakes: Whisk together 1 cup of mix, 1 cup of buttermilk (or a combination of half plain yogurt and half milk; or 3/4 cup liquid whey), and 1 large egg. Don't worry if it seems thin at first: the oats will soak up the milk, and the mix will thicken a bit as it stands.

Let the batter stand for at least 20 minutes before cooking.

Heat a lightly greased griddle to 350°F (if you've got a griddle with a temperature setting; if not, medium-hot will do).

Drop the batter onto it in 1/4-cupfuls (a jumbo cookie scoop works well here) to make a 4″ diameter pancake. If you have English muffin rings, use them; they make a perfectly round, evenly thick pancake.

When the edges look dry and bubbles come to the surface without breaking (after about 2 minutes, if your griddle is the correct temperature), turn the pancake over to finish cooking on the second side, which will take about 2 minutes.

Serve pancakes immediately, or stack and hold in a warm oven.

Yield: a batch using 1 cup of the mix will make about 5 to 8 pancakes, depending on size.
Ingredients
Quinoa Bowl
1 cup uncooked white quinoa
1 cup unsweetened almond milk, plus more for serving
1 cup coconut milk (light canned, or the beverage in a carton)
Pinch sea salt
2 Tablespoons unsweetened cocoa powder
2-3 Tablespoons maple syrup or coconut sugar
Optional: 1/2 teaspoon pure vanilla extract
3-4 squares vegan dark chocolate, roughly chopped
For Serving (optional)
Mixed berries
Sliced banana
Coconut sugar
Hemp seeds or chia seeds
Directions
Thoroughly rinse quinoa in a fine mesh strainer for 2 minutes, using your hands to sort through and pick out any discolored pieces or pebbles that may remain.
Heat a small saucepan over medium heat. Once hot, add rinsed, drained quinoa and toast for 3 minutes, stirring frequently, to dry up water and slightly toast.
Add almond milk, coconut milk, and a pinch of salt, and stir. Bring to a boil over high heat, then reduce heat to low and cook for 20-25 minutes, uncovered, stirring occasionally. If it stops simmering, increase heat to medium-low. You're looking for a slight simmer throughout the cooking time.
Once the liquid is absorbed and the quinoa is tender, remove from heat and add cocoa powder, maple syrup and vanilla (optional). Stir to combine.
Taste and adjust flavor as needed. Add a bit more almond milk if you prefer the texture thinner. I added more cocoa powder and maple syrup for a more intense chocolate flavor.
Serve each bowl of quinoa with a small square of vegan dark chocolate, and any other desired toppings (listed above). I preferred mine with a bit more coconut milk, hemp seeds, and fresh fruit (optional).
Best when fresh, though leftovers will keep covered in the refrigerator for 2-3 days. Reheat in the microwave, or in a small saucepan with additional almond milk to add moisture back in.
References:
American Institute for Cancer Research
Harvard T. H. Chan School of Public Health
National Institutes of Health, Office of Dietary Supplements
University of Maryland Medical Center http://www.umm.edu/Health/Medical-Reference-Guide/Complementary-and-Alternative-Medicine-Guide/Supplement/Vitamin-B9-Folic-acid
For More Articles on Nutrition and Eating Healthy: