How to Clean ENFit Extension Sets
Enteral misconnections occur when enteral feeding tubes or extension sets are accidentally connected to non-enteral tubing. This can happen with IV lines, respiratory tubing, urinary catheters and other devices. One example is formula being fed into a patient's veins when a feeding tube was accidentally connected to the IV line.
The ENFit connection is a solution developed by international safety organizations and manufacturers. Enteral devices with ENFit enteral connectors will connect only to other enteral devices. That's because there is a male and a female end that fit together. When twisted, they lock, which also prevents accidental disconnection, or "feeding the bed."
While the ENFit design maintains a secure connection between the feeding tube/extension set and the pump bag or syringe, it does create a space, called the moat, where fluid can get trapped. For this reason, it's important to keep the moat clean in order to prevent clogging.
Tips for Keeping ENFit Ports Clean
How to Clean ENFit Extension Sets
What You Will Need:
Steps for Cleaning ENFit Extension Sets:
Wash your hands thoroughly with soap and water and rinse the brush with clean tap water.
Disconnect the extension set and soak in clean water or rinse under faucet for at least 1 minute.
Wet the toothbrush with clean water and rotate in the bottom of the moat and cap for 15 seconds.
Fill the syringe with clean water and flush the extension set.
Wipe the ports on the extension set and the cap dry. Clean the supplies and air dry.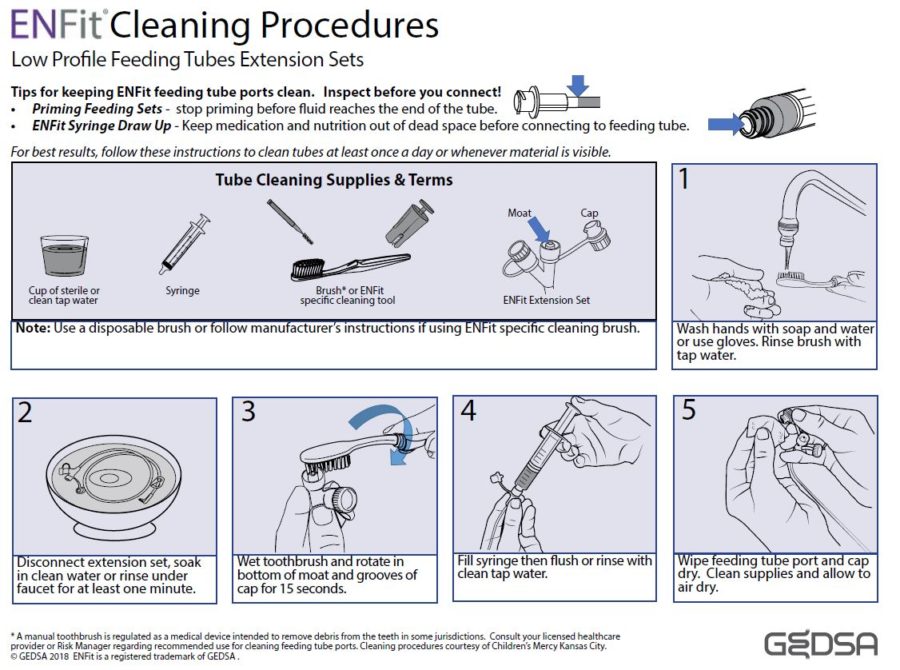 For a PDF of these instructions, click here.
More Articles on Enteral Misconnections and ENFit:
Resources on Enteral Misconnections and ENFit:
ENFit® is a federally registered trademark of GEDSA.
Used with permission.