Dressing with an ostomy is something every ostomate needs to learn. It's personal and takes some time after surgery. You'll need to make some adjustments, but you can make it work – without spending a fortune.
At first it is best to wear loose, comfortable clothing until you have fully recovered from your ostomy surgery. After my surgery, I tried several different products and clothes, and over the years I have adapted my closet to fit my ostomy. Here are a few of my favorite things:
Shape-wear shorts:
About a year ago I bought a pair of shape-wear shorts that come up to my ribs at T.J. Maxx, and they work great for me. Not only do they help conceal my ostomy but they have the added bonus of also being quite slimming. I like to wear them under dresses and rompers.
High-waisted shorts: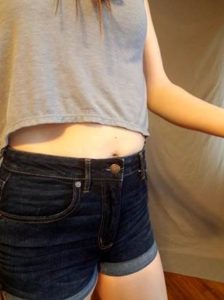 I like to wear high-waisted shorts with tight shirts tucked into them or short tops. The shorts are great for concealing my bag because they are textured, have seams, and are made of thick material.

Leggings:
Leggings are one of my favorites, but not just any leggings; I like leggings with a thick band at the top, preferably a band that encompasses the wafer. If the band itself sits right on top of the wafer if makes it almost impossible to see. I wear these under dresses and skirts or just with a shirt.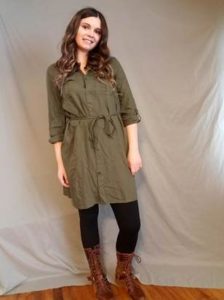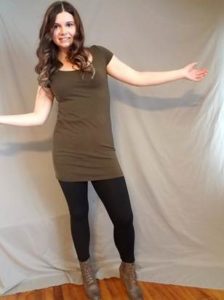 < – Leggings and dress
Leggings and tight dress – >
(YES! We can make the tight dresses work, too)

Mid-rise jeans: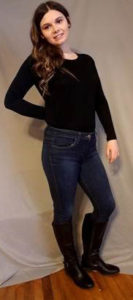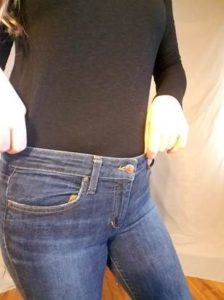 I like to wear mid-rise instead of high-rise pants. While high-rise shorts work for me, high-rise pants don't seem to fit my body or style and they sit too high above my bag so it is able to bulge out under the band at the top of the pants. The tops of mid-rise pants sit right on top of my wafer, pulling it into me. You want to make sure that the pants are not too tight on your wafer if you choose to wear pants that sit on it. You also want to make sure that the stoma is not too compressed by these because it can cause harm to or cut off the blood supply to the stoma.
High-waisted skirts:
Tight high-waisted shirts made of thick material are perfect. If worn with leggings or tights underneath, there is an added layer of clothing to smooth out your ostomy pouch, but these skirts are also able do the trick on their own. Think thick material and patterns and/or texture.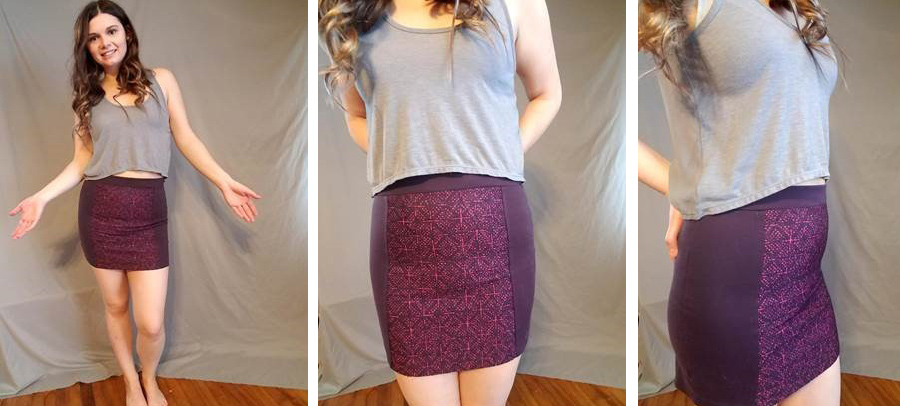 Cinch-waist dress: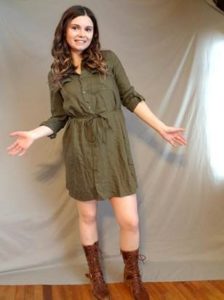 Dresses (or rompers) that cinch at the smallest part of my natural waist are perfect. I usually wear a wrap, leggings, or tights under these to keep my pouch against my body.
Ostomysecrets wrap:
While there a lot of great apparel and accessories options developed specifically for ostomates, I have found many clothing items that work for me, as you can see above. But sometimes I do wear a wrap from Ostomysecrets. There are several wraps created by Ostomysecrets, including the Classic Wrap and the Classic Wrap Lite. My favorite is the Classic Wrap Lite, which I sometimes wear under dresses. These are great for when you aren't wearing leggings or tights or for coupling with leggings or tights if you are wearing a tight dress.
At the end of the day, it is all about finding what works for you and what makes you comfortable.  While I have found that these clothing "hacks" work best of me, you may find that something else works better for you. If you have yet to discover what works best, try some of my tricks! Maybe you'll find just what you needed.
For more information, see related articles and resources here: