Find Part One of this series about manual and motorized wheelchairs, or head to Part Three.
In the box office hit movie series "X-Men" lead character Professor Xavier powerfully lead a team of gifted crusaders against evil. And although bound to a motorized wheelchair (motorized at the least), his sophisticated disposition was made more impressive by the technology in which he rolled. He would glide elegantly in each scene, with the wheelchair be presented more like a superbly-cast supporting actor than a prop or debilitating medical device. From my point of view, his character was made more poignant with the chair than without.
That is why part two of my three part blog about wheelchairs features three manufacturers boasting the latest in design and technology. We'll also focus on how the electric wheelchair has become more like an extension of one's personality and less of a taboo apparatus.
Technology & Design
Recently, I had the privilege of "test driving" a futuristic power wheelchair called the Whill. With its "X-Men" minimalistic style, all-wheel drivetrain and patented fixed front wheels I was able to keep straight-line pace with the industry leading power chair (Permobil) at around 12mph. But that is where the comparison stopped. I could abruptly turn the compact Whill on its axis and, believe it or not, climb effortlessly up a 6-inch concrete parking curb to the surprise and amusement of a few onlookers. This power wheelchair is a city slicker, great for high-functioning, fashion-forward folks with an eye on the future.

The Permobil power wheelchair is the industry leader for technologically advanced platforms on which a variety of applications are applied. I personally do not have experience driving this chair but I do know plenty of happy owners who proudly show off its capabilities. The fully-loaded Permobil F5 Corpus VS standing wheelchair is the cats pajamas. This machine will take you from a comfortable seated position to laying supine to standing fully upright in a matter of seconds — perfect for pressure relief on tissues, blood pressure stabilization and the physiological benefits of weight bearing, not to mention the psychological effects of standing in a crowd.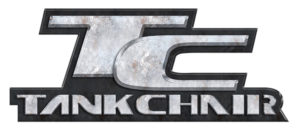 Now I know this is a big leap from the four wheels we've been learning about but, for my own adventurous reasons, I had to feature this brute force behemoth aptly named the "Tank Chair." The saying "necessity is the mother of invention" holds true in the case of this ingenuity. Hailing from Parker, Arizona, the Tank Chair was created by outdoor enthusiast Brad Soden for his then newly spinal cord injured wife, Liz. One day while camping, Liz was unable to join her family on a hike because of the limitations of a standard wheelchair. Brad knew that this wasn't a matter of will, just way. He quickly began experimenting with off-road vehicle parts and ultimately engineered the rugged, all-terrain Tank Chair for his wife. The original chair was an anomaly at the time but has since become some what of an Internet star with videos of extreme off-roading and outdoor access that was once considered impossible.
These are only three brief examples of where electric wheelchair technology is currently, and where it is headed. What we haven't yet covered is how advanced the control systems have become for these types of platforms. Think "X-Men" mind control and you are on the right track.
Click here to see legendary Indy car driver Sam Schmidt (a high-level quadriplegic) drive a
500-HP Corvette sports car with his mouth.
Part three of this blog series will detail more about the manual wheelchair market and the many identity-defining accessories available for fashion, function and versatility to keep life in motion.
Best in Health,
Aaron