For part three of my wheelchair blog series, I will focus on manual wheelchairs and a variety of add-on accessories that make today's chairs a custom-fit. Many chairs can even become an extension of ones' personality and lifestyle. I will feature a handful of wheelchair manufacturers and products that I have had a personal experience or ones where I have a close relationship with the creator(s). I want you, the reader, to know that there is a vast selection of high quality companies around the globe that offer custom solutions to mobility needs – all you need to do is look!
My overall intention with this three-part blog series has been to share my process of discovery of my perfect wheelchair fit and to inspire a desire for you to seek out your own. I must reiterate that I am not a wheelchair technician, nor an expert in the industry, but I do have nearly two decades of rolling experience that gives me competence in my choices. I hope you enjoy the ride …
The Frame
A solid, well designed foundation is tantamount to more than just wheelchair construction, but is integral when it comes to quality and comfort for a chair. That is why I have selected three wheelchair manufacturers that make quality frames (general purpose and made-to-order) as a platform of quality and customization.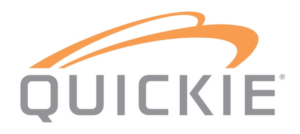 I will start with Quickie wheelchairs because they have been around for more than three decades and have produced some of the industries "firsts" with regards to design and function. They were ahead of their time, having wheelchair athletes like company co-founder Marilyn Hamilton lead research and development, and provide extreme product testing in a sporting environment. This progressive method was a revolutionary way to help break barriers regarding wheelchair use and capability. Sport wheelchair frame materials became lighter, stronger and faster for competition which ultimately created a trickle-down effect for vastly improved standard wheelchairs. Click here to view Marilyn Hamilton's Quickie.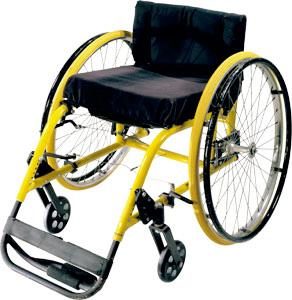 Tennis Wheelchair, 1983
The Quickie helped popularize wheelchair tennis. Marilyn Hamilton used this type of chair to win the 1983 U.S. Women's Open Wheelchair Tennis Championships.
Note: My personal wheelchair is a light-weight, aluminum frame Quickie Q7 that was custom measured to my specific dimensions.
As wheelchair tech moved forward through the '80s and into the '90s aluminum and chromoly metals were the standard for frame fabrication. To reduce weight, users were forced to seek out custom, one-off components made from lighter materials for their wheels, seat back and seat cushions, fasteners and stabilizers. One company in particular,Ti Lite, manufactured bicycle frames, motorcycle parts and golf-shafts out of the ultra-light weight, exotic metal titanium. They often provided wheelchair manufacturers with custom parts until they realized they could offer a completely unique product. In 1998, they revealed a frame fabricated entirely from the alloy that at the time was typically reserved for race cars, space planes and medical tools. This advanced chair was known as the "Cross-Sport" and was a huge leap forward for wheelchair users, because in our case "lighter is better."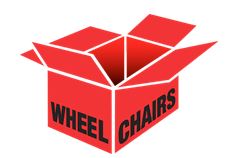 Nowadays, high-quality wheelchairs are mostly fabricated on a corporate scale, using an assembly lines of robots rather than humans. However, this leads to a growing niche market of users wanting a personal, custom fit fabrication by the empathetic hands of a craftsman.
One such craftsman is Mike Box. In 1992, this former aerospace technician began tinkering on his brother's tennis wheelchair to perfect his fit and form. The two brothers ended up building a prominent wheelchair company together which was then sold 2010. Mike's philosophy is, and always has been, helping others For him, there is no better way to make a comfortable, durable wheelchair that fits the individual than one you build from scratch. At Box Wheelchairs, all chairs are custom made-to -rder and fitted with only the best parts and components on the market.
Wheelchair Accessories
This is where the fun begins: it's like choosing the accessories on a new car, just cheaper (or not!). Most manufacturers have a long list of bolt-ons you can choose from when ordering a new wheelchair. Everything from the wheels to the backrest to the seat cushion and break assembly can be special ordered. Not to mention color choice! I have found my perfect rolling solution by using a variety aftermarket products like:

Wheels – A smooth, high performance roll with some style is what I look for in a wheel. Spinergy is another cross-over company that has roots in the bicycle industry, making them experienced at wheel-building. They have a large variety of general purpose and performance wheels for any application. I personally use the Sport Lite Extreme "SLX" X-Laced wheel with red pro-fiber spokes and a vinyl push-rim for improved grip.

Tubes – I wrap my Spinergy wheels with the Schwalbe Marathon-Plus, HS440 all-purpose tires with inner-tubes. I choose to use an inflatable air tire versus a solid tire for my rolling comfort, Although the peace of mind of an air-less, solid tire is sometimes worth the rough ride. I choose Schwalbe tires because, again, as a cross-over company they have decades of tire experience. I also have a back-up set of wheels wrapped with Schwalbe mountain bike tires that have a more aggressive tread for off-road adventures and adverse weather conditions.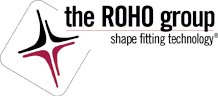 Cushion – Aside from choosing your favorite mechanical features of a wheelchair, the most important choice to make is what you sit on: the cushion. This unassuming, underrated pad of foam, rubber, fabric and air is the most vital part of your ride. It can literally save your behind! With many selections to choose from, aesthetics in my opinion are not a part of the equation. Bottom line: choose something that fits! A clinical professional should be consulted in this process to ensure body weight is distributed evenly across the cushions surface to avoid dangerous pressure points. A removable, washable, breathable material is good for hygiene and skin health. My personal cushion is an air-bladder design made by a company called Roho.

Backrest – Moving on, posture is crucial for overall health and function for every body, not to mention those bodies in wheelchair. Sitting for prolonged periods of time can have severe, negative effects on the structure of the human body, impacting the spine, the rib cage, the pelvis and the vital organs. To help maintain correct postural alignment and optimal function, a balance between the wheelchair frame, footplate, seat cushion and backrest must be emphasized. Most wheelchairs are built with a standard backrest, though this does not have to be the fit you live with. There are many aftermarket backrest selections to choose from and by establishing a rapport with your local wheelchair representative/technician you can "test-fit" multiple bolt-on features that adjusts the height, width and bolstering of your backrest. For example: ADI Designs is a Texas based company founded by quadriplegic Todd Hargroder, whose mission is to "enhance the mobility, independence and well-being of people with disabilities by evaluating and addressing the root of problem in order to effect change and provide lasting solutions."

Extras – A manual wheelchair is just that, manual. It takes quite a bit of labor to power a push-rim wheelchair with only your arms. With proper ergonomic setup, a wheelchair can be efficient, but will eventually may fatigue even the stongest person over long distances, technical terrain and the dreaded thick carpet. A solution I have found to help me propel faster and longer is the Max-Mobility Smart Drive quick release electric motor. This compact power wheel is a game-changer for me because I have asymmetrical strength in my upper body (my left arm and hand is slightly stronger than my right) so I fatigue faster than I would otherwise. I have explored other power-assist options like E-Motion wheels, the ZX-1 by Spinergy and the Rio Mobility Firefly Power Handcycle, all of which are great mobility solutions, just not my "cup-o-tea."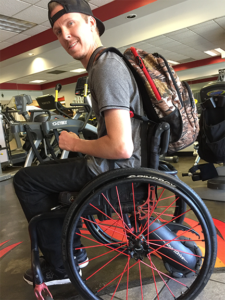 So, in summation, the ol' roller does not have to be a metaphoric ball and chain, limiting your life adventures. It can be a literal, liberation device, empowering mobility in a technically advanced, fashion-forward way. You will turn heads not because you are in a wheelchair, but rather, because you are riding a cool progressive tool.
Best in Health,
Aaron