With the holiday season in full swing, so too is the kitchen in many households. I always look forward to this time of year primarily because of the feasting that occurs with family and friends. The only drawback for me is the culinary curve ball of quality, quantity and calories in the food these few months bring. The foods I typically like to indulge in are not all that friendly to my impaired digestive tract. Living with a neurogenic bowel due to my spinal cord injury means I digest slower than the average person. My secret to a joyous meal is to prepare myself for the dramatic change in diet so that my body can utilize all the richness of a party plate.
Here are ten simple tips for a guiltless, digestion-friendly holiday season.
10 Holiday Season Wellness Tips
Eat Before a Party – When I get to a party, I typically overindulge on random goodies. So instead, I make a plan to eat a healthy home cooked meal before the party, so I don't over eat on appetizers or desserts!
Stay Hydrated – Drink plenty of water. When at the party, I alternate between cocktails and water. Besides helping to curb appetite, water helps to balance the pH in my bladder to avoid pesky urinary tract infections.
Keep Moving – I increase my exercise routine this time of year, specifically to burn off the added calories. All movement counts: Arm exercises, standing frame, etc. Plan on completing thirty minute workouts at least four times a week. Schedule your workouts as if they were a party and stick to them!
Potluck Party – If I'm (really, my wife) asked to bring a dish to share, we bring the healthy option! One of my favorites is Spinach & Feta Quinoa Bites. Click on that link, or scroll down to find a great recipe for them.
Fill Up – While at the buffet, I begin my meal with the good stuff, i.e. lean protein, fruits and veggies. I look for foods high in healthy fats and fiber to help me feel fuller, for longer. I try to limit carbohydrates, starches and sugars that break down quickly, which can send my brain signals for seconds I don't need.
Smaller is Better – I use a salad plate instead of a dinner plate when at the buffet line. This is one of the oldest tricks in the book. My inner glutton is satisfied by finishing a heaping small plate.
Silent Night – I make sure to get a full eight hours of sleep. Quality rest helps reduce stress and the hormones associated with hunger.
Everyone Poops – This is the most important part of my holiday routine because all the yummy goodness that goes in, must come out. And sometimes it does not want to. I ensure to keep a strict schedule for my bowel program, adding digestive aids like aloe Vera supplements, smooth move herbal tea and magic bullet suppository when needed.
Cleaning the Chimney – As a reboot for my body after consecutive heavy holiday meals, I like to juice! For one full day, I start with a fiber-rich smoothie and follow up with multiple cold-pressed juices and water. This program can be easily prepared in your home or found pre-made at some health food markets.
Stay Positive – Bodily changes don't happen overnight, so it's okay to have that slice of pie! Just remember to maintain balance throughout your day and enjoy the holiday season.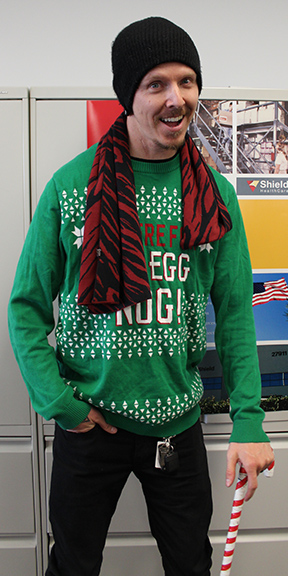 Recipe for Spinach & Feta Quinoa Bites
*Adapted from www.aggieskitchen.com
1 cup uncooked quinoa
2 cups chicken broth (or water)
1 tsp olive oil
4 handfuls fresh spinach (about 1 cup cooked)
1/2 chopped onion
1 minced garlic clove
1/4 tsp dried oregano
4 oz crumbled feta
salt and pepper, to taste
3 eggs, lightly beaten
Preheat oven to 350 degrees.
Cook quinoa according to directions. Set aside to cool.
In large skillet, heat olive oil over medium heat and sauté onion until translucent. Add spinach until completely wilted.
In large bowl, combine quinoa, onion & spinach mixture, garlic, oregano, salt and pepper. Add egg to incorporate.
Spray mini muffin tin with nonstick spray. Spoon quinoa mixture into tin and gently pat it down.
Bake in oven for 18-20 minutes. Let cool for 5 minutes before removing from tin. Makes about 36 quinoa bites.