"Life is about the journey, not the destination" – Unknown
I love to travel, and the first thing I think about when I schedule a trip on the calendar is the adventure I will have getting there. I have learned to savor all aspects of the journey, take my time and enjoy the ride! Everything from organizing my toiletries and supplies to detail-booking transportation and accommodations gets my full attention. Even if my plans go a little askew, I am prepared, which enables me to "go with the flow." In this article, I summarize the most important components of my travel preparations, sharing with you the steps I take when preparing to travel with a wheelchair.
You can also watch me as I prepare for a flight and board an airplane:
Flights
Nowadays, travel accommodations can all be made via the internet without having to use a travel agent or have phone conversations. It is important to indicate special needs and/or requests when booking. I like to request bulkhead seating when selecting my seat, but for airlines such as Southwest (first come, first serve), I make sure that I am at the gate early enough to board first, which allows me to get preferred seating. Arriving early also allows for ample time to transfer using the airline aisle chair. Be sure to remove your seat cushion and any accessories on your wheelchair before the flight attendants stow your chair under the plane. Using your wheelchair cushion on longer flights helps prevent pressure injuries!
One of my biggest concerns while on a flight is using the bathroom. I always keep a container with a screw top lid and a blanket or jacket in my carry-on so that in the event I am unable to access the restroom, I can discreetly relieve myself.
In the event of multiple stops on the way to my destination, I allow myself at least an hour layover in between landing and taking off. This reduces travel stress and factors in the unforeseeable – weather changes, flight delays, etc…
Rental Car
When researching my temporary chariot, I look for something I know I can transfer into with enough storage space for my luggage and chair. If you book with at least 48 hours notice, companies like Hertz, Budget and Enterprise will add hand controls, steering wheel spinner knobs and/or transfer boards to your rental car at no additional cost. Additionally, I make sure to bring my car phone charger and handicap placard when renting a car.
Hotels and Airbnb
For comfort and consistency, I book my lodging at known hotel chains such as Hilton, Marriott, and Best Western. These main chains ensure a high probability of accessible accommodations. As fun as the boutique hotel trend is, it is a roll of the dice when it comes to wheelchair accessibility – leave those hotels for happy hour entertainment! I specifically look for non-smoking, roll-in shower access rooms. A cherry on top would be an accessible gym and a Jacuzzi-lift after a long day of travel.
My limited experience with Airbnb has been pleasant so far. When researching for homes to share with my family and friends, I filter under "facilities" and choose "handicap accessible" to ensure that the home is accommodating for entrance and exit, as well as living.
Packing
My rule of thumb is to always keep your luggage with you. I travel with a backpack for my quick-access stuff, and a hard shell four-wheel roller suitcase for my clothes and supplies. Even when traveling internationally, I do not like to check my luggage. This travel tip ensures that anything I left the house with stays with me at all times! Luggage can get lost, and that would be devastating to my health.
Here is what I pack inside my luggage: in my backpack, I carry bathroom supplies and snacks, my computer, an outer layer, gloves and my headphones. I also have a multi-tool (without knife), tape and tire pump for my wheelchair. It is important that I also carry my identification and insurance cards, money and copies of any relevant medical information. I leave the originals at home! My roller case is packed like a puzzle with clothing based on the weather I will be encountering during my trip (cold, hot, or windy) and extra medical supplies.
Do you have a question for Aaron Baker? Ask Aaron here!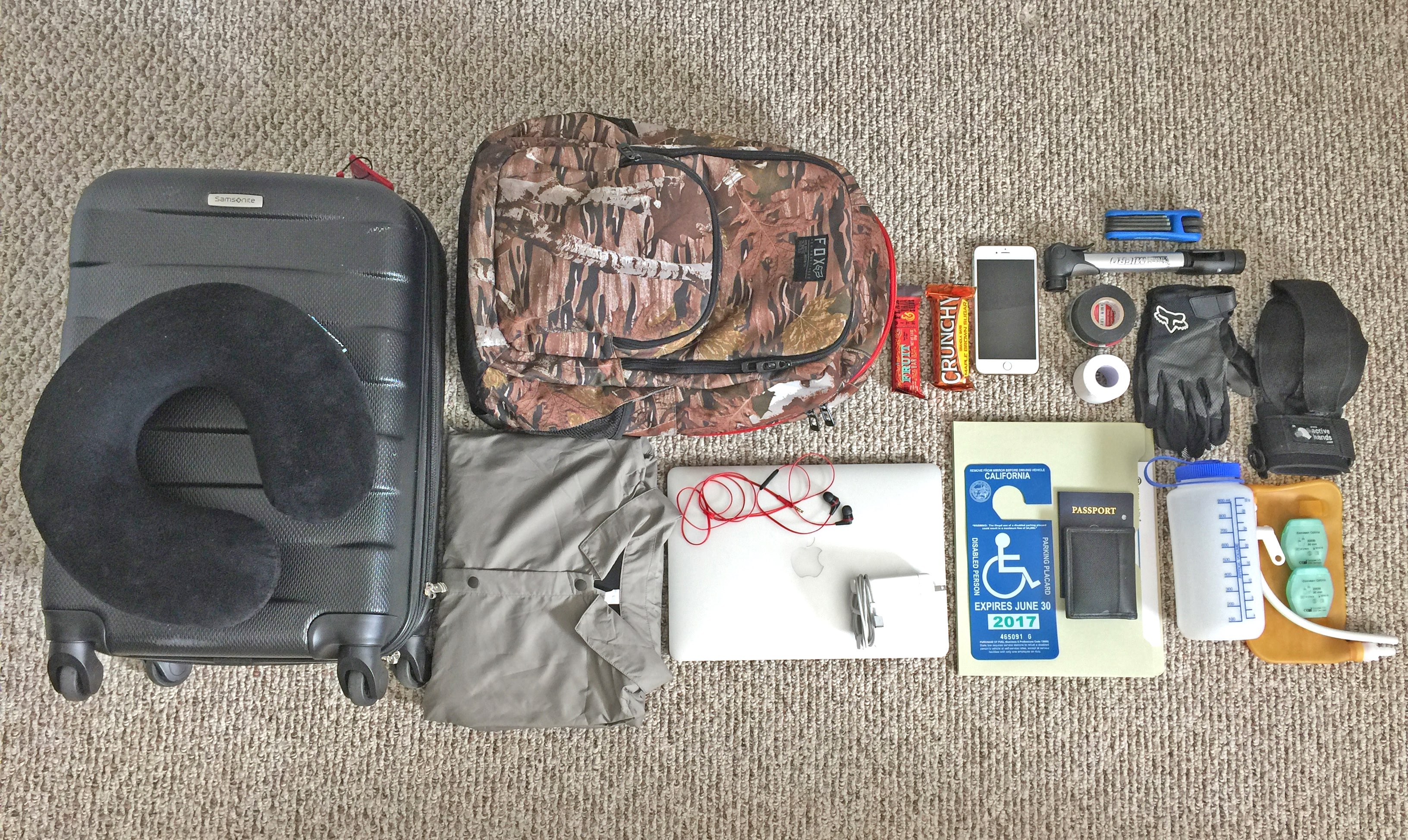 "He who would travel happily, must travel light" – Antoine de Saint-Exupery
You might also be interested in:
Mobility in the City Video: Los Angeles – with Aaron Baker, SCI Lifestyle Specialist