There are a few accomplishments I'm very proud of since my injury. After years of great effort and hard work, being able to stand up on my own was a pivotal moment for my recovery, especially since it was the moment I asked my then-girlfriend to marry me (thankfully she said yes). These days, I'm able to spend 90 minutes of my exercise sessions on my feet and doing things while standing but I'm still working hard to achieve my ultimate goal of being able to walk independently. I'm also very proud of publishing my book. It took almost three years and I poured my heart and soul into it in order to write a candid and engaging story about my life post spinal cord injury. It felt great to finally finish it and get my story out to the world.
If your journey through life with a spinal cord injury is just beginning, you've got a lot on your plate. Here are a few things to keep in mind.
Arm Yourself with Knowledge
Gathering information after my spinal cord injury was a challenge since there are so few resources out there and everything is fragmented and very regional. I ended up relying on the experiences and suggestions of other people with SCI as well as a ton of online research all while maintaining an open mind to the information I would encounter.
Pave Your Own Path
My one piece of advice to a newly injured person is to cultivate the courage to pave your own path to recovery and live the life you want.
Don't believe everything that doctors and "experts" tell you. Much of their information (especially when it comes to your potential for improvement) is outdated and it's important to question what they tell you. Don't let them frame how you choose to recover or live. Have an honest conversation with your body, your abilities, and your desires and once you know what you want, be prepared to work harder than you've ever worked to achieve your goals.
Thankfully, I've gotten wonderful responses to my TEDx talk and my book! People are able to identify with the themes and matters I discuss even though most don't have injuries of their own. I'm happy that people have reacted so positively to them and have encouraged me to continue sharing my story.
Don't Let People Put You in a Box
I think the danger in categorizing people (especially early after their injury) as "quadriplegic" or "para" is that it boxes them into a construct and can limit their potential for improving their quality of life. I don't believe in categorizing people at all. People might think that just because they're categorized a certain way they won't be able to do something and escape out of that box. I believe that we need to enable and encourage people to use any means they can to draw inspiration and strength to take on a traumatic injury and seek a better life, whatever that is for the respective person. Categorizing them goes against that, in my eyes.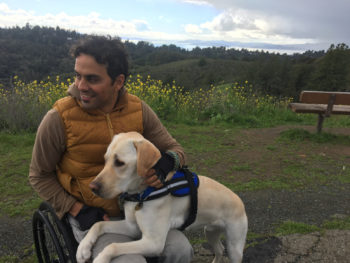 Consider Getting a Service Dog
It was in the initial years after my injury that I first learned about service dogs and what they could do for people with spinal cord injuries.  I met a few people with service dogs and only then did I start to comprehend just how amazing these pets were. Tortilla is awesome! Having him with me makes me really happy. When I'm having a rough moment, I look at him and smile and I enjoy his companionship. It was such a long wait to get him that I'm not sure it could have been much sooner!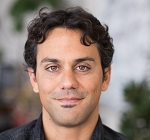 Arash Bayatmakou is a Spinal Cord Injury Survivor, Author, Motivational Speaker and Entrepreneur.
Follow his blog, Arash Recovery.
Discover his book, Little Big Steps.
Watch his TEDx video.
Check out his nonprofit, No Limits Collaborative.
More Articles Related to Spinal Cord Injury: