Updated September 10, 2021
Emergency preparedness for an unexpected natural disaster is smart for anyone but it's extraordinarily important if you're living with a spinal cord injury.
I live in a fire and earthquake prone part of the country, so a plan b is imperative for my health and safety. Here are a few things to consider when preparing your backup plan.
Know Your Specific Condition, Risks & Needs
Start by understanding the kinds of natural disasters that might affect you based on where you live; such as floods, fires, earthquakes, tornados and snowstorms. Also consider power outages that could happen at any time. Consider how each type of emergency could affect your normal, daily routine. Then make a list of your needs.
Consider These Questions
Do you live alone or with a significant other, roommate, family or friends?
How independent are you?

Do you need assistance with your daily routine and activities?
Will this assistant likely be with you in an emergency?

What type of mobility equipment do you use?

Wheelchair (manual/power)
Walker/Cane
Other

Will you still have access to this equipment in an emergency?

Do you have a spare wheelchair, walker, or cane?

If you use a power wheelchair, is it charged daily?

Will you have a backup power supply (also very important if you depend on a ventilator)?

Are there medications, nutrition supplements or other treatments that you need daily?
Do you have medical supplies that you use daily?
Build Your Emergency Supply Kit
A good way to prepare for an emergency is to build an emergency supply kit. With this kit you should be prepared to survive for at least 3-5 days or longer in case help does not reach you right away. Your kit should be complete but it should also be portable.
This kit should contain basic items such as food and water plus supplies and equipment required to maintain your health and mobility with a spinal cord injury. This kit should be ready to carry or roll on short notice in case you need to leave quickly. Apart from the standard food, water, flashlight, batteries, tape and first-aid items, here are some extra things you may need to include in your kit:
Spare manual wheelchair and other assistive devices such as a walker, cane or braces
Lightweight, portable wheelchair ramp stored for quick access
Large, durable blanket used for temperature control and transfer assistance
Backup chargers and batteries for powered or motorized wheelchairs and phones

A small gas- powered generator may be needed for larger powered devices

Extra oxygen and a portable ventilator if you require help with breathing
3-5 days-worth of medical supplies like catheters, suppositories and incontinence pads for bowel and bladder care
Medications and an updated copy of your prescriptions.

Include reference numbers for your medications and supplies to make refills possible wherever you are.

Contact information for your medical supply company and your doctor – keep these in your phone as well as in your emergency kit.
Emergency contact information and copies of important documents
Medical alert identification card with information about your health problems and medical needs.

Include a short description that can inform someone about your condition. This precautionary measure will help others understand your unique care needs if you are unable to communicate.

Keep a list of emergency contacts and support network numbers in your phone, wallet and emergency kit.

Knowing how and where to contact your support network is imperative in an emergency.

You can also contact your local emergency services department and find out if they keep a list of people with disabilities or special needs. Adding yourself to this list alerts emergency relief workers that you may need additional help in an emergency.

Also, contact your electricity company – they may have a priority list for people who need power restored quickly in an emergency.

Find out in advance if the nearest emergency shelters are wheelchair-accessible.
By creating this emergency preparedness plan, you are essentially producing peace of mind… And peace of mind is priceless!
Did I miss any tips or tricks for natural disaster preparation with a spinal cord injury? Please let me know in the comments!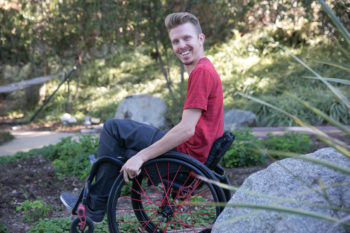 More Articles Related to Spinal Cord Injury: