Despite today's technology, which allows you to click a button on your phone and literally have virtually anything delivered right to your door, including groceries, I still prefer to do some things the old-fashioned way. My weekly "honey-do" chores always consist of a trip to the grocery store for a week's worth of nature's bounty, so in this article I will share my method of a market haul while living with a spinal cord injury.
Choose Quality Over Quantity
My approach to food shopping is to choose fresh fare first – like my local farmers market, Whole Foods, Trader Joes, then Ralphs or Vons…in that order (I live in Southern California, but hopefully you have similar options where you are).
I then consider how accessible each place is. Most stores have close handicap parking spots, curb cut-outs and smooth entry ramps with electric sliding doors, making entering the store while pushing a wheelchair and shopping cart a bit easier.
Depending on my energy level I can either practice walking while holding onto the shopping cart like a walker, use my wheelchair with or without my SmartDrive®, or I can call the store and they will have someone bring their motorized electric cart out to my car.
Now let's talk about how I shop.
First, I write down a list of my nutrition, hygiene and miscellaneous needs, then I gather my reusable grocery bags and head out the door.
I begin by tackling the perimeter of the store first. This is where you find the produce, dairy, eggs, meats and fish, plus freshly baked breads. When you stick to the outside of the market, you can get the bulk of the five main food groups covered without the Lucky Charms temptations located down the inner isles.
Don't get me wrong, I still love the childhood taste of a box of Lucky Charms cereal, but living with a neurogenic bowel and bladder means I have to make higher quality food and drink selections that provide a more nutritious bang for my buck.
When I shop the produce section, I look for "USDA Organic" stickers on my selections. I especially like to choose organic when consuming fruits and veggies on the Environmental Working Group's Dirty Dozen list. This isn't as important when I am picking fruit I will peel, such as a banana or melon.
To save money, I buy what is in season, as it's most likely the freshest, and most cost effective. I like to utilize coupons and apps, such as the Ralphs mobile app, which provides weekly coupons and offers each week. I also like to shop for foods that I can make once and use multiple ways. I'll make a batch of chicken in the oven with olive oil, salt, and pepper – shred it for tacos, slice it for salads, or toss it in pasta!
Ask For Help
A lot of items in the market are shelved high up on racks, out of reach for a wheelchair user. Most stores I frequent have clearly marked signs that display their willingness to help.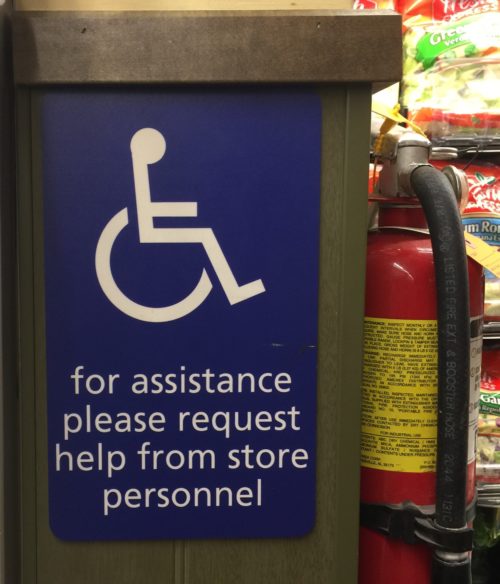 If you would rather roll solo, then having a handy reach-and-grab stick with you can make life a bit easier. I found this model on Amazon for $10… Shipped to my door! Hahaha.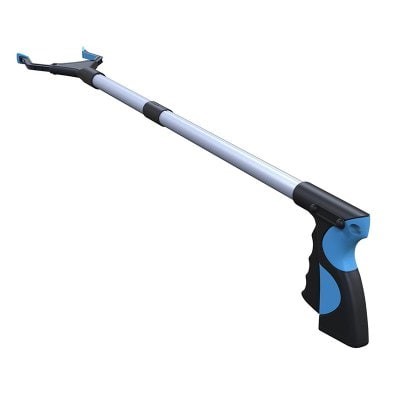 Whether you ask for help while shopping or not, most stores will offer to accompany you back to your car and help you load your groceries.
As the times continue to change and technology makes higher quality, locally-sourced foods more available via delivery apps, I suppose I will change too. Until then, you can find me in the market, buzzing up and down the isles, hand-selecting my nosh.
Best In Health,
More Articles Related to Living with a Spinal Cord Injury: