Since my injury in 2012, I've gone back to a few of my favorite national parks and even visited a couple of new ones. But it wasn't until a few weeks ago that I was finally able to fulfill a two decade-long dream of visiting Glacier National Park in Montana.
You can also read about Arash's adventures in Big Sky, Montana:
Tucked away in the northwest of Montana, just 50 miles from the Canadian border and far from any major cities, Glacier is certainly not the easiest place to get to. But this also means that the crowds (while still considerable in the peak summer months) are significantly less compared to the other better known national parks of the west like Yellowstone, Grand Teton, Yosemite or Grand Canyon.
There were options to stay at the lodges within or just outside the entrance to Glacier, but my wife and I decided to stay in Whitefish, which is a great little town with lots of lodging options, restaurants, stores and most everything we needed for our visit. Even though it's an old western outpost with a charming downtown, accessibility was pretty good, and I was able to easily access restaurants and stores and find wheelchair-accessible restrooms. Of course, I didn't go everywhere or dine at every establishment, but overall, I found it to be an accessible and super enjoyable place to visit.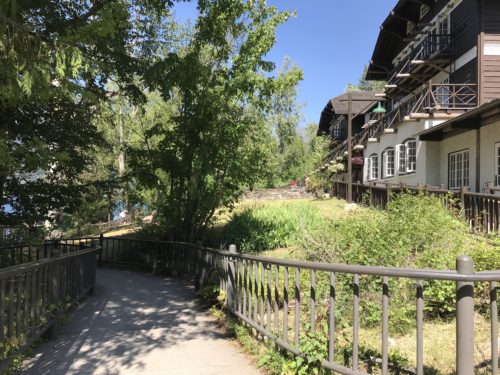 From Whitefish, it's a 40-minute drive to the West Glacier park entrance. Upon flashing my Disabled Access Pass (free entry to all national parks) to the ranger, we cruised into the park and began the scenic drive on Going to the Sun Road (GTTSR). This 50-mile road, which cuts across the entire park from west to east, is known as one of the most scenic drives in the country, if not the entire globe! People from all over the world come to see the majestic views from this narrow, winding, and unbelievably stunning road.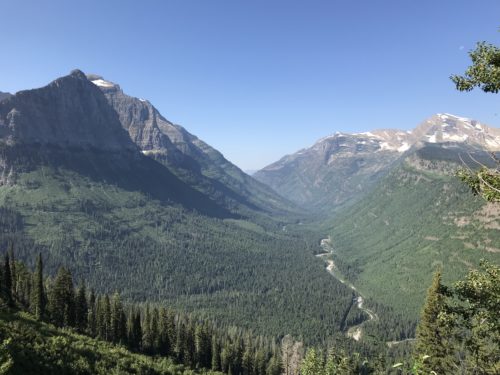 As a wheelchair user, it was comforting for me to know that driving the GTTSR is one of the highlights that all visitors are encouraged to do, so I didn't feel like I was missing out on something just because of my limited mobility.
Driving west to east, the first few miles of the road through forest and along Lake McDonald were flat. We stopped by the Lake McDonald Lodge, checked out the gift shop, and cruised around the wheelchair-accessible paths down to the edge of the lake where there were options to rent kayaks or boats. If we had another full day in Glacier, I would have certainly planned on going out on a kayak as the water was serene, calm, and gorgeous.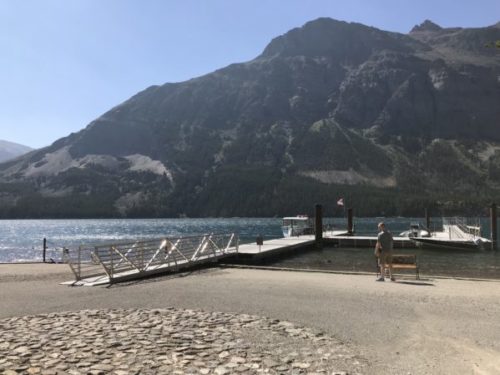 Next stop was the Trail of the Cedars Nature Trail which we were told was the main fully wheelchair-accessible trail in the park. Parking was tight, as it was a busy morning, but after making a pit stop at the restroom (with accessible stalls), we went out on the one-mile path, which was a mixture of wooden boardwalk through the trees and hard-packed dirt that followed a beautiful little river. It had a few ups and downs but nothing crazy and for the most part, it was quite doable for the wheelchair.
Upon leaving the trail, the GTTSR began to climb, and with every switchback and narrow turn came an increasingly better view of the massive peaks, waterfalls, and rock formations around us. Although the road has only two lanes and in some stretches is very narrow, there are countless pullouts that made it easy to stop for photos or to take a stretch break. I can't understate how beautiful this stretch of the road was. Having traveled to many places in the world, I was pleasantly surprised that these views were already becoming implanted in my mind as some of the most memorable I'd ever seen. And because the speed limit was never more than 25 mph, the slow drive allowed us both to enjoy the scenery.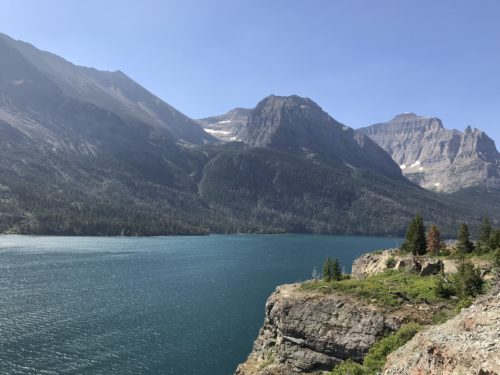 Nearing the peak, we went by Weeping Wall, where the water from the mountaintops trickles down the slick rocks and onto the road. A few miles later, we reached Logan Pass (6646 feet), which had a visitor center and a super packed parking lot which we promptly skipped.
Making our way down the final 20 miles of the GTTSR towards the east entrance of the park, the views were dominated by the massive blue of Saint Mary Lake. A friend had told us to finish the GTTSR and put in the extra 30 minutes to drive out of the east entrance and loop back into the park at the Many Glacier entrance about 10 miles north. Fewer people come to this part of the park but those who do are rewarded with an unforgettable view of staggering peaks seemingly guarding the deep blue lakes below. We stopped in at the Swiss style lodge to enjoy our picnic lunch on one of the benches overlooking this one-of-a-kind place.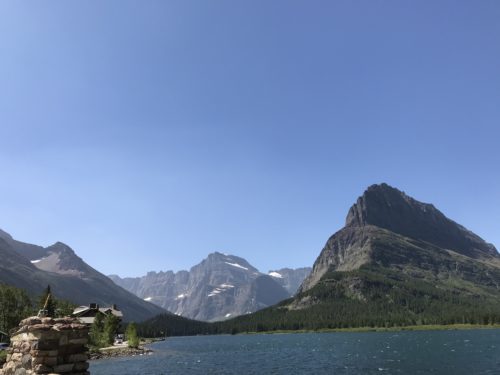 Although we could have looped back to Whitefish a different way, we decided to complete the day retracing our steps and driving back through the GTTSR, and I'm glad we did. It was a great reminder that seeing the same place from a different angle (especially one as beautiful as this) can provide an entirely new perspective and an equally enjoyable experience. After making a couple final photo stops at the pullouts and a restroom break at one of the lodges (again, with accessible bathrooms), we finished the day feeling fantastic.
Of course, I can't speak to everything that Glacier has to offer and I'm sure that even for the wheelchair user, there were things we may have missed, but I would recommend anyone of any ability to make a trip to see this special place.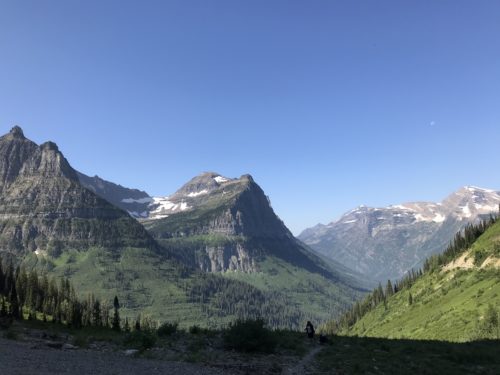 My dream of visiting Glacier made me continue to appreciate that some of the most beautiful sights that our country has to offer are readily available to people of all abilities.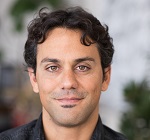 Arash Bayatmakou is a Spinal Cord Injury Survivor, Author, Motivational Speaker and Entrepreneur.
Follow his blog, Arash Recovery.
Discover his book, Little Big Steps.
Watch his TEDx video.
Check out his nonprofit, No Limits Collaborative.
More Articles on Wheelchair-Accessible Adventures: