The Mountains Are Calling
I spent many years sitting at the bottom of mountains, staring up at the snow covered peaks. From my wheelchair I'd sulk as skiers, snowboarders and sledders shredded their way down powdered hills with grins ear to ear, while I sat and dreamed of one day returning to the cold weather fun I had enjoyed as a youth.
Sure, adaptive winter activities have been around awhile, originally invented in the 1940s when Austrian soldiers modified skis as a form of rehabilitation from their injuries, ultimately becoming sport at the winter Paralympics in 1976.
Seasonal recreation has become increasingly popular in recent years with a growing variety of adaptive equipment, accessible ski resorts and instructional programs.
In my quest to return to the mountain I've tried Alpine (downhill) and Nordic (cross-country) skiing by experimenting with three different types of sit-skis:
Bi-Ski. With two skis attached to the bottom of the bi-ski, a user can balance himself upright with little effort. For beginners, additional balance and skiing finesse come from either small handheld outriggers or fixed outriggers with an instructor guiding from behind. Essentially, the instructor holds the back of the bi-ski with tethered ropes "thumb tethering" to teach the student good turns and speed control. Due to its inherent stability, the bi-ski is the most commonly used piece of sit-down equipment.
Mono-Ski. The mono-ski has only one ski attached beneath the seat. Since the mono-ski will not stand upright or remain stable, it requires a higher level of physical strength, balance, and coordination. However, the payoff is greater maneuverability. Really good mono-skiers can ski black diamond slopes and moguls.
Twin Ski. Like the bi-ski, the twin ski is fixed with two skis. However, the twin ski uses standard shaped skis. The twin ski offers more of the performance, versatility, and independence of the mono-ski, with some of the stability and simultaneous edging capabilities of the bi-ski. A proficient skier can load, unload, and ski the twin ski without assistance.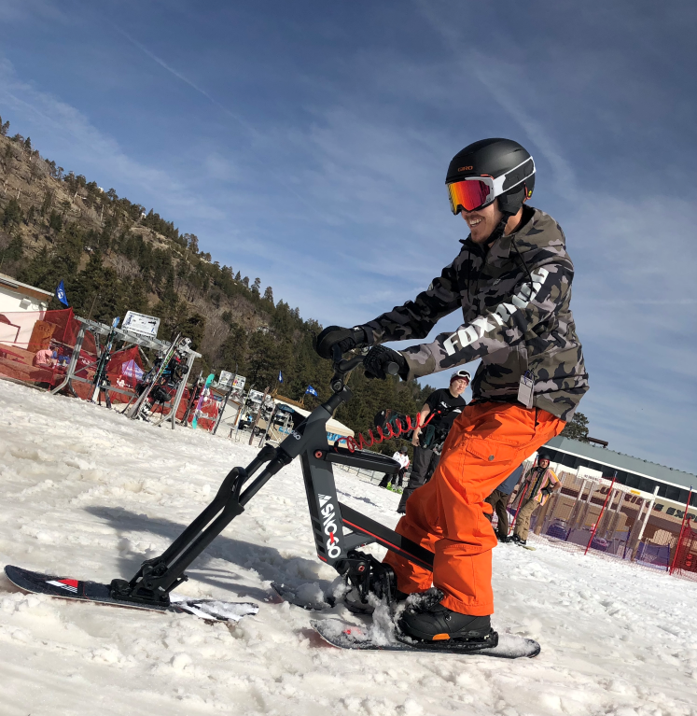 Although these three devices were interesting and fun, it was the Sno-Go ski bike that liberated me most.
Because of my improved physical strength and coordination I was able to stand and steer this uniquely designed contraption.
With my right hand securely strapped to the handlebars and my legs and feet balanced and braced to the dual skies, I found myself atop the mountain once again.
Nineteen years after my spinal cord injury I felt the unique freedom of gliding smoothly over freshly fallen snow. My lungs filled with crisp winter air and my grin wide. I remembered why I loved winter sports so much, memories flooded back as I carved down the mountainside.
I want you to feel the same exhilaration and cool wind in your face. I hope you discover, or rediscover the majestic mountains these coming winter months.
Below is a list of accessible winter resources for you to explore.
United States Adaptive Recreation Center
Located at Bear Mountain, California, in the San Bernardino State Forest, USARC offers individualized instruction in adaptive skiing and snowboarding. Prior to beginning their instruction, each student is assessed by a highly trained teacher who determines what type of adaptive skiing or snowboarding is appropriate for the student and then outfits them with the appropriate gear to ensure safety.
Disabled Sports Eastern Sierra
Mammoth Mountain, California is the site for Disabled Sports Eastern Sierra—a volunteer-based nonprofit dedicated to changing the lives of children and adults with disabilities and their families by offering year-round outdoor sports and activities. DSES has adaptive equipment to fulfill everyone's winter and summer dreams: gliding down a snow-covered mountainside, cruising on a cycle or skimming over a placid lake. Activities are customized to each individual; one-on-one or in a group. Our goal is for everyone to be active year round! DSES makes the outdoors accessible and affordable!!
Achieve Tahoe
At Achieve Tahoe, individuals of all ages and abilities can learn to ski and snowboard. The program is located at Alpine Meadows Resort in Alpine Meadows, California.
National Ability Center
At the National Ability Center in Park City, Utah, you can enjoy downhill and cross-country adapted skiing as well as adapted sled hockey.
Telluride Adaptive Sports Program
Telluride offers adaptive skiing and snowboarding lessons for individuals with all types of disabilities. The program also has special weeklong camps for people with disabilities.
Beaver Creek Adaptive Program
Part of the Vail Resort company located in the Colorado Rockies, Beaver Creek offers individualized lessons with professional instructors.
Liberty Mountain
Located on the Pennsylvania/Maryland border, Liberty Mountain ski resort has been the host site for the Blue Ridge Adaptive Snow Sports (BRASS) program for many years. BRASS's mission is to enhance life for individuals with disabilities through winter sports.
Additional Resources:
Happy Shredding!
Aaron