When it comes to wound care dressings, choosing the right product is a critical part of the healing process. Shield HealthCare offers a complete line of wound care products for every wound type. Popular wound care brands include 3M, MPM Medical, MediHoney, Kendall, Smith & Nephew and Hollister Wound Care.  Refer to our wound reference guide below for a quick and simple overview of the most commonly used wound care dressings.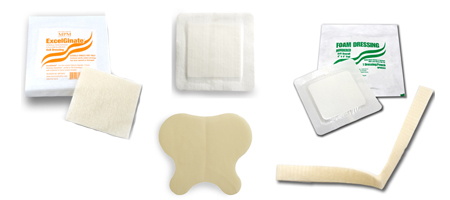 Wound Dressing Reference Guide
Calcium Alginate Dressing – Typically used to control drainage or exudate, in moderate to heavily draining full-thickness wounds. Designed for wounds that need to be covered.
Calcium Alginate Rope Dressing (Wound Filler) – Used to fill deep wounds and or tunneling. Designed for wounds that need to be covered.
Composite Dressing – A non-adherent, non-bordered or bordered dressing  that combines a bacterial barrier layer with an absorptive layer. May include a waterproof layer. Designed for light to heavy wound drainage.
Foam Dressing – Designed to contain exudate (drainage). Most commonly used as a cover dressing on moderate or heavily draining wounds.
Hydrocolloid Dressing – A self-adhesive waterproof dressing that promotes a moist wound healing environment. May be used as a cover dressing for wounds with low to moderate drainage.
Hydrogel Dressing – Available by the ounce or in sheet or gauze dressing styles. Primarly used to deliver moisture to the wound bed or to soften eschar (slough or dead tissue). Most effective on dry or low draining, full thickness wounds.
For more information, see related articles and resources here: