Updated October 18, 2018
Top 5 Nutrients for Wound Healing
If you have a pressure injury, nutrition becomes especially important. Consume a variety of foods to ensure that you get enough nutrients to help with wound healing.
CALORIES
Having a pressure injury increases your calorie needs. You may need to add extra calories to food if you have trouble gaining weight. Getting enough calories helps your body to avoid using protein for energy during times of stress or illness.
Recommendation: 30-35 calories per kilogram of body weight per day for people under physical stress with a pressure injury (adjust for underweight or obesity)
TIP: Consume snacks or eat smaller, more frequent meals to avoid feeling too full to eat enough.
Good sources:
Oral nutrition supplements
Nuts, seeds and nut butters
Vegetable oil, butter, cream
Avocado and dried fruit
PROTEIN
Protein is necessary to make and repair tissue. You may need extra protein if you have a large or draining wound or if you are underweight. Adequate protein intake will help your body maintain a positive nitrogen balance for wound healing.
Recommendation: 1-1.5 grams/kilogram/day
TIP: More than 2 grams/kilogram may contribute to dehydration in the elderly.
Good sources:
Beef, poultry, pork, fish, seafood, eggs
Milk, yogurt, cheese
Fortified milk

1 quart of whole or low-fat milk
1 cup powdered non-fat dry milk or protein powder
Blend and chill for at least 6 hours

Beans, nuts, soy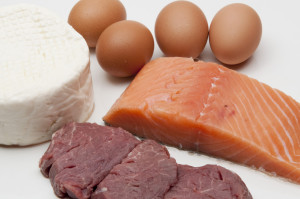 WATER
Your body needs water to transport nutrients and get rid of waste products. Drink at least eight 8-ounce glasses of water daily. You may need more if you have a draining wound, high-protein diet, fever, use air-infused beds, or have negative pressure wound therapy.
Recommendation: 30-35 milliliters/day or 1 milliliter/calorie consumed
Good sources:
Fruits and vegetables
Juice and milk
Jell-O
Popsicles
Broth-based soups
VITAMIN C
Vitamin C helps prevent damage to your cells and repair tissue. You may need a vitamin C supplement if you have wound that is difficult to heal or if you don't eat enough fruits and vegetables.
Recommendation: For clinical or suspected deficiency supplement up to 2,000 daily until resolved.
Recommended Dietary Allowance (RDA) for adults: 75-90 milligrams per day
Tolerable Upper Intake Levels (ULs) for adults: 2,000 milligrams per day
TIP: There is a risk of toxicity in patients with chronic renal failure and high doses of vitamin C may also cause gastric upset.
Good Sources:
Citrus fruit and kiwi
Bell pepper, broccoli, cauliflower
ZINC
You need zinc to make collagen, a major protein in connective tissue necessary for wound healing.
You should be able to get enough zinc from food and a daily multivitamin but your needs may be increased if you have heavily draining wounds or if you don't eat enough food.
Recommendation: For clinical deficiency: 40 to 50 milligrams of elemental zinc for up to 30 days.
RDA for adults: 8-11 milligrams per day
ULs for adults: 10 milligrams per day
TIP: Long term high doses of zinc, such as from a supplement, inhibits copper absorption, contributing to anemia, impaired immune system and poor wound healing.
Good Sources:
Seafood (especially oysters)
Beef, pork, chicken
Yogurt and cheese
Fortified breakfast cereal, oatmeal, cashews
Chickpeas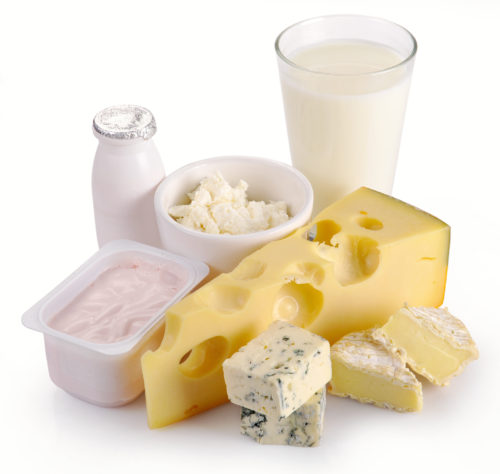 Nutritious Recipes
333 Calories, 12.8 g fat, 3 g sugar, 22 g protein, 4 g fiber
TOTAL TIME: 30 MIN
SERVINGS: 4
1 (8 Oz) package tempeh
1 Tbsp. olive oil
1/2 C water
1/4 C minced yellow onion
2 Tbsp. reduced-sodium soy sauce or tamari
1 Tsp chopped fresh rosemary
1 Tsp chopped fresh oregano
4 garlic cloves, minced and divided
1/4 Tsp black pepper, divided
3/4 C silken tofu (about 6 Oz)
1/2 C peeled and grated English cucumber
1 Tbsp. fresh lemon juice
1 Tbsp. chopped fresh dill
1/2 Tsp white wine vinegar
1/4 Tsp kosher salt
4 (1.9 Oz) whole-grain flatbread wraps
1/2 C vertically sliced red onion
1 medium tomato, thinly sliced
SLICE tempeh lengthwise into 8 (1/4-inch-thick) slices.
HEAT oil in a large nonstick skillet over medium. Place tempeh slices in skillet and cook until golden-brown. 3 to 4 minutes on each side.
Meanwhile, STIR together 1/2 cup water, minced onion, soy sauce, rosemary, oregano, 2 minced garlic cloves, and 1/8 teaspoon black pepper in a small bowl.
ADD soy sauce mixture to tempeh in pan. Cover and reduce heat to medium-low. Braise tempeh turning occasionally until liquid has mostly evaporated and tempeh has absorbed the flavors, about 10 minutes.
PROCESS silken tofu and remaining 2 garlic cloves in a high-powered blender until smooth. Place in a bowl. Stir in cucumber, lemon juice, dill, vinegar, salt, and remaining 1/8 teaspoon black pepper.
DIVIDE tempeh evenly among flatbreads and top each with about 2 teaspoons tzatziki. Divide onion slices and tomatoes evenly among gyros.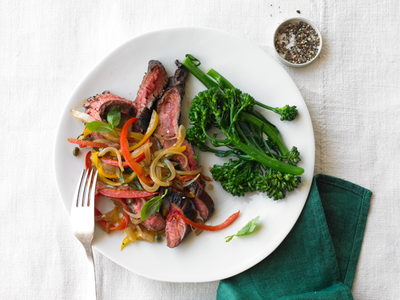 454 calories, 23 g fat, 17 g sugar, 39 g protein, 280 mg vitamin C, 7 mg zinc, 4 g dietary fiber
PREP TIME: 20 MIN
TOTAL TIME: 55 MIN + marinating time
SERVINGS: 4
4 Cloves garlic
½ C dry red wine
12 Small fresh basil leaves
1 Tsp dried rosemary
4 Tbsp. olive oil
1½ Lb. flank steak
1 Large onion, sliced
4 Large bell peppers, sliced
½ Tsp dried oregano
5 Tsp capers, rinsed
1 Tbsp. balsamic vinegar
SMASH 2 of the garlic cloves. Finely chop remaining 2 cloves and set aside. Add smashed garlic to zip-top bag along with wine, basil, rosemary, and 2 Tbsp. of the oil. Add steak and chill 6 hours.
HEAT 1 Tbsp. of the oil in pot over medium heat. Add onion and cook, stirring, until golden, 10 minutes. Add peppers, oregano, and remaining 1 Tbsp. oil. Cover and cook, stirring, until softened, 5 minutes. Add reserved chopped garlic and cook, stirring, 1 minute. Stir in capers and vinegar and cook 2 minutes. Season to taste.
PREPARE lightly oiled grill for medium-high heat. Remove steak from marinade (discard marinade) and sprinkle with ¼ tsp salt. Season with black pepper. Grill, turning, 6 minutes per side for medium-rare. Let stand 3 minutes and thinly slice against the grain. Top with peperonata.
585 calories, 59 g protein, 22 g fat, 38 g carbohydrate, 8 g fiber
Blend together:
12 Oz water (can also use milk or yogurt)
2 Scoops chocolate flavored protein powder (or 6 Tbsp. powdered non-fat dry milk)
1 Banana
1 C of spinach
2 Tbsp. of natural peanut butter
1 Tbsp. cacao nibs or dark cocoa powder
High-Calorie, High-Protein Fruit Smoothie
320 calories, 60 g carbohydrate, 19 g protein, 2 g total fat
Makes 1 large serving
Ingredients
6 Oz (¾ C) orange juice
1 Banana
6 Frozen strawberries (unsweetened)
1 Oz (3 Tbsp.) protein powder or powdered non-fat dry milk
Directions: Place all ingredients in blender. Blend until smooth
Fortified Oatmeal
1 serving (approximately 10 Oz or 1⅓ Cup) = 355 calories, 8 g protein
⅓ C oatmeal
½ C half-and-half
½ C water
⅓ Tbsp. margarine or butter
Brown sugar to taste
Directions: Measure half-and-half, water, and margarine or butter into a saucepan. Bring to a boil. Add oatmeal and cook until thick. Serve with brown sugar on top.
Fortified Pudding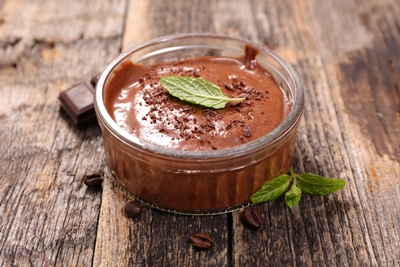 1 serving = 260 calories, 4 g protein
¼ C instant pudding mix
½ C half-and-half
Directions: Blend all ingredients together and serve.
Orange Creamsicle Shake
1 serving (¾ Cup) = 330 calories, 4 g protein
⅓ C orange sherbet
½ C half-and-half
1 Tbsp. light corn syrup
⅓ Tbsp. oil
Directions: Blend all ingredients together and serve.
For more information, see related articles and wound care resources here: