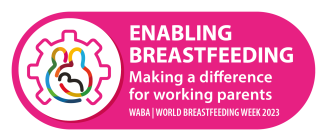 2023 World Breastfeeding Week is August 1-7!
This year spotlights breastfeeding at work. Let's make breastfeeding and work, work!
Breastfeeding provides an important role in providing infants with essential nutrients, antibodies, and bonding experiences. While recognizing that not all parents are able to breast feed, most health agencies, such as the World Health Organization, suggest breastfeeding over formula where possible.
Breast milk is a safe, reliable and natural food source that adapts over time to meet the changing needs of your growing child. It has just the right amount of calories, carbohydrates, protein, fat, vitamins and minerals to support normal growth and development. Human milk is also packed with disease-fighting substances that help to protect your baby from illness. The colostrum produced in the first few days of nursing is rich with a protective substance that coats your baby's mucous membranes and guards against invading germs.
The American Academy of Pediatrics recommends:
Exclusive breastfeeding for about 6 months
Breastmilk as primary source of nutrition in the first year of life, with complimentary foods introduced after 6 months
Continued breastfeeding for 2 years or longer
Breastfeeding provides health benefits for both mother and child. It helps strengthen the baby's immune system and reduces the risk of certain diseases, while also promoting postpartum recovery for the mother.
| | |
| --- | --- |
| Breastfeeding Benefits for Infants | Breastfeeding Benefits for Mothers |
Breastfeeding can help protect babies against some short- and long-term illnesses and diseases.

Estimated Risk Reduction Examples:

72% – Upper Respiratory Tract Infections
64% – Gastrointestinal Tract Infections
58% – Necrotizing Enterocolitis
52% – Celiac Disease
36% – Sudden Infant Death Syndrome

Breastfeeding has health benefits for the mother too, such as:

More rapid return of uterus to pre-birth size
Decreased postpartum blood loss
Increased loss of baby weight
Reduced risk of conditions such as:

Postpartum depression
Cardiovascular disease
Breast and ovarian cancers
Breastfeeding at Work
For many parents, there is a need to return to work while still breastfeeding. If you are a lactating parent, it can be beneficial to explore options for pumping at your work place. In the United States, new laws have passed in the past decade that protect a mother's right to express and store breast milk in a supportive work environment.
Under the Patient Protection and Affordable Care Act, most employers must offer breastfeeding moms:
Reasonable break times to pump for up to 1 year after birth
Space, other than a bathroom stall, to privately express breastmilk
The Consolidated Appropriations Act of 2023 – signed into law on December 29, 2022 – includes the PUMP for Nursing Mothers Act ("PUMP Act"), which extends to more nursing employees the rights to receive break time to pump and a private place to pump at work.  The PUMP Act expands workplace protections to nearly 9 million additional breastfeeding employees who were not previously covered under the ACA due to a technicality that limited protections to those eligible for overtime pay. Those newly eligible for workplace coverage to pump milk include teachers, registered nurses and nurse practitioners, transportation workers, agricultural workers, computer programmers, software engineers, retail workers, traveling salespeople, doctors, lawyers, journalists, photographers, and musicians.
---
For more information, see related articles and breastfeeding resources here: