On April 6, 2023, the FDA issued a Class I Recall of Abbott's FreeStyle Libre®, FreeStyle Libre® 14 day, and FreeStyle Libre® 2 Readers in the United States. A medical device recall means a firm's removal or correction of a medical device. In this case, Abbott is correcting the product labeling and not physically removing all the readers as part of this recall.
What is the Freestyle Libre Reader?
The reader is a small handheld device that displays glucose readings taken from a sensor worn on the back of a person's upper arm, allowing them to manage their diabetes by seeing their daily glucose levels and trends.
FreeStyle Libre Readers use lithium-ion batteries, like the kinds used in mobile phones and many other handheld electronic devices, which have the potential for battery swelling, leakage, or extreme overheating. Abbott has received reports from a small number of users that their reader's lithium-ion battery  swelled, infrequently overheated, or – in very rare cases – sparked or caught fire.
Why Is This Medical Device Correction Being Issued?
After an investigation, Abbott determined that using a different charging cord than the one provided by Abbott for the FreeStyle Libre Reader may increase the risk of a fire hazard. The Abbott-provided USB cable and power adapter limit the current to safely charge the battery. Third-party chargers may allow much higher power, increasing the risk of fire if liquid or other contaminants get into the USB port.
The Abbott-provided yellow USB cable and power adapter are shown below: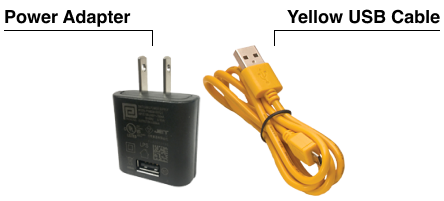 Is the FreeStyle Libre Reader Being Recalled?
This is a voluntary Urgent Medical Device Correction Notice. It is intended to provide information about risks associated with the lithium-ion batteries contained in the FreeStyle Libre, FreeStyle Libre 14 Day and FreeStyle Libre 2 Flash Glucose Monitoring System Readers.
No readers are being physically recalled unless they are damaged, or show signs of swelling, overheating, or reduced battery life. Follow the instructions below to determine if your reader needs replacement. Customers can continue to use their Readers with the Abbott-provided USB cable and power adapter. This Correction Notice does not affect any of the FreeStyle Libre sensors.
What FreeStyle Libre Readers Are Affected?
FreeStyle Libre, FreeStyle Libre 14 Day, and FreeStyle Libre 2 readers.
Does My Reader Need Replacement?
To determine whether your Reader needs to be replaced, visit Abbott's Reader Replacement Check Website and answer their short survey.
For further information or support concerning this issue, contact the Abbott Customer Care team at 855-632-8658.  Their team is available 7 days a week from 8 am to 8 pm EST, excluding holidays.
What is Abbott Doing To Correct This Problem?
Abbott is updating the FreeStyle Libre 14 day and FreeStyle Libre 2 Reader User's Manuals to include the instructions below. The revised user guide and labeling are available at www.freestyle.abbott/us-en/support.
You can find more information about this Medical Device Correction on Abbott's website:  www.FreeStyleBattery.com
How to Safely Store, Charge and Use the FreeStyle Libre Reader
To avoid the potential for battery swelling, leakage, extreme overheating and/or fire, Abbott recommends the following:
Storing the Reader
DO NOT expose the reader, power adapter or yellow USB cable to water or other liquids.
Store the reader between -4 °F and 140 °F.
Avoid getting dust, dirt, blood, control solution, water, bleach, or any other substance in the test strip or USB port.
Charging the Reader
Charge the reader battery by ONLY using the Abbott-supplied yellow USB cable and adapter (charger).
Before charging:

Check the reader's USB port and make sure it is dry and free of debris.
Check the Abbott-provided power adapter and yellow USB cable to make sure they are not damaged.
Choose a location for charging where you can easily access the power adapter and quickly disconnect it to prevent the potential risk of electrical shock.

Take care when plugging/unplugging your yellow USB cable. Do not force or bend the end of the yellow USB cable into the Reader's USB port.
Using the Reader
If the reader becomes too hot to hold, immediately STOP USE and contact Customer Service about a replacement reader, cable and adapter.
Do NOT use the reader if you notice any signs of deterioration (such as clouding or crazing on the display of the reader, corroding, eroding or swelling of the plastic housing, or cracking of the plastic housing or display).
Do NOT attempt to use the reader if it does not turn on.
If the Reader does not turn on after being charged or you notice a significant deterioration in battery life, contact Customer Service about replacing your Reader, yellow USB cable, and power adapter.
If the Reader is dropped or subjected to impact and you are concerned it may be damaged, perform a reader test to confirm it is still working properly. (See Perform a Reader Test section of the Reader User Manual for instructions.)