Original article published on www.i-sba.org
It was a powerful moment when this 48-year-old met a three-year-old and her parents.
"All of my life I thought I was the only one. I knew nobody else like me," says Wendy Chasteen. Then last fall she met Zaela Bell. It was the first time Wendy, age 48, ever met somebody with spina bifida, let alone with the same level spinal lesion she has.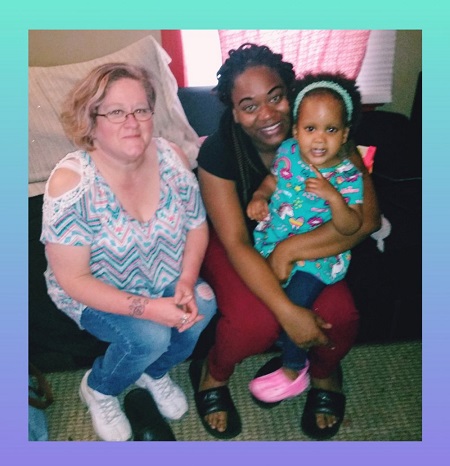 Wendy's meeting was not by chance. She found the Illinois Spina Bifida Association (ISBA) while on Facebook, called the office and learned there was an ISBA gathering in her hometown of Galesburg. Meeting Zaela, the three-year-old daughter of Tasia Griffin and Timothy Bell, however, was by chance, or, as she puts it, "my good fortune." In fact, it was good fortune for all of them.
For Wendy, married and mother of two teenage boys, the ISBA family networking event allowed her "to know what it's like to be around others who have spina bifida. It's nice — very nice. If you don't have spina bifida, it's hard to understand it. For example, when the weather changes, my shunt hurts, but my family doesn't understand what that's like." The same applies to bowel and bladder issues, leg length discrepancy issues, muscle atrophy and loss of some feeling in one of her legs, all associated with spina bifida, says Wendy who had spinal cord de-tethering in 2010.
Wendy also feels fortunate to provide Zaela and her parents what she never had growing up — a role model and resource. "Wendy gives us hope for Zaela," says her mom. "We all wonder what our kids will be like when they get older. You'd never know Wendy has spina bifida. She walks. She has kids. That's cool. She's shared a lot about her life and clinical experience with spina bifida. When Zaela grows up, maybe she can be like Wendy."
Zaela's dad adds: "Wendy's advice to us is that spina bifida takes a lot of fight. Determination is key. Don't put limitations on what Zaela can do."
Wendy and her parents never got that kind of counsel. When she was born in Canton, IL, her Army dad was overseas. Her mom was only 19 and had no idea there was anything wrong in utero. "When I was born, as my mother tells the story, the local doctor didn't know what to do and I was transferred to another hospital where the neurosurgeon was very young and I was his first spina bifida patient. When it was time for me to leave the hospital, the doctor just handed me to my mom without instructions. She had no idea how I'd develop or whether I'd walk."
In contrast, Zaela's mom learned when she was 18 weeks pregnant that her child has spina bifida. "We went to St. Louis for a second opinion and after a lot of hospital tests we learned there would be no in utero surgery because of the level of the lesion. So we had a lot of explanations, but still a world of worries."
Wendy and Tasia became instant friends. Turns out they live only five minutes away from each other. They also communicate almost daily on Facebook. If Tasia has a question about spina bifida, she knows Wendy will explain things or point her in the right direction for help. Wendy's only too happy to help — and watch Zaela grow.
They both also have the same advice for others in the ISBA community — get involved and stay connected with other families with spina bifida. "You'll be glad you did," says Tasia, Adds Wendy: "I only wish I had reached out decades sooner."