A few years ago we relocated a few hours away from our closest family members. At the time I said we'd try to come down to visit, especially around the holidays. I meant well, I almost always do, but we have yet to make many visits back just to see family, and this year, yet again, we're staying put. Any idealistic visions I had of dashing through the snow for family games and treats galore are just dreams, the reality just doesn't work.
Though my kids are teenagers, our home is still childproofed. We have extra combination locks and chains on all of our doors to keep the kids safe from their elopement tendencies, we have bathrooms customized for the medical procedures, and much more.
But really, the reason we want to stay home is so that we can relax and enjoy each other.
It's no fun to make sure our kids don't break things and even less fun when they do break them. It's a bummer when we have to be vigilant every second to make sure they're safe, and it's exhausting when they can't sleep because their environment is different. I could go on and on, but the bottom line is that when we're away from home there must be a constant vigilance that means we can't just sit back and enjoy the day.
Of course, it's good for kids with intellectual disabilities to learn flexibility by getting our of their routine and adapting to different places, but those are therapeutic outings, not holiday celebrations. When I make plans to bring my kids somewhere to stay for their benefit, I go with the mindset of teaching them things and focused on their growth. When I celebrate holidays I want to kick back, create warm, enjoyable memories, and let my guard down. And that happens at home, only at home.
When it comes to celebrating the holidays, my children deserve a safe, fun, and relaxed season, and that means home sweet home.
I cling to a twinkle of hope that someday we will venture over the river and through the woods for a festive holiday with many loved ones away from home. That hope is so slim it's not even a long-term goal, it's a pipe dream. Instead, I will open my home to the loved ones who can and do enjoy snacks by the fire, sledding down the hill in the back yard, and playing games at our extra-large kitchen table. We'll keep spare beds with clean sheets ready for loved ones to join us in our relaxed, safe and comfortable home.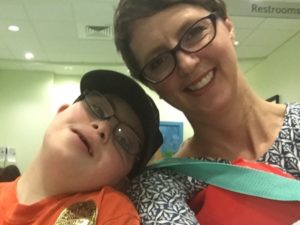 Alethea Mshar is a Special Needs Mom and Blogger.
Read her blog, Ben's Writing, Running Mom
Follow her on Facebook