When it Comes to Handicapped Accessibility, Sometimes You Have to Do It Yourself
I love our stander. I love our gait trainer. I love our wheelchair. I love the lift in the garage that brings that wheelchair in and out of the house. I love all the wonderful equipment that has made my son Charlie's life easier. Cerebral palsy is hard enough. Let's give the kid a break and help him get around in any way possible.
But…
Sometimes that wheelchair/stander/gait trainer can't handle the grass at the Fourth of July picnic or the gravel on the farm at the pumpkin patch or the steep mountain trails of Colorado. And while all the equipment is well and good, I also want things to help him have fun. Because having fun is as fundamental a human experience as walking and talking and learning and laughing. Fun is as big a piece of the puzzle as all the rest.
Over the past eight years of my son's life, my husband Jody has become the world champion at DIY handicap accessibility. He took apart three hiking backpacks to create one perfectly fit for Charlie so he can ride high while we hike in the mountains. Jody also built an additional set of trail-worthy wheelchair wheels for those same mountains so Charlie can cruise down the bike paths.
Accessible biking, however, has been Jody's gold standard goal for years. If you look in our garage, you would see upwards of eight bikes in various stages of building and re-building. But the one thing he had yet to figure out, was a bike that Charlie could ride with me, the biggest chicken and therefore worst bike rider in the family. I am not comfortable on two wheels. I never have been. I don't like the wobble and I don't trust breaks or gears or curbs. When people say re-learning a skill is "just like riding a bike," I adamantly disagree. Nothing, absolutely nothing, is like riding a bike.
But that did not stop my husband from trying to make me one. He researched adaptive equipment that would allow Charlie to ride with me behind the bike, or in front, or to the side. But none of these felt safe enough or stable enough for me to maneuver, much less for me to maneuver with my first born son in tow. And none of them offered Charlie the chance to work the pedals and exercise his own muscles.
Enter: the surrey cycle.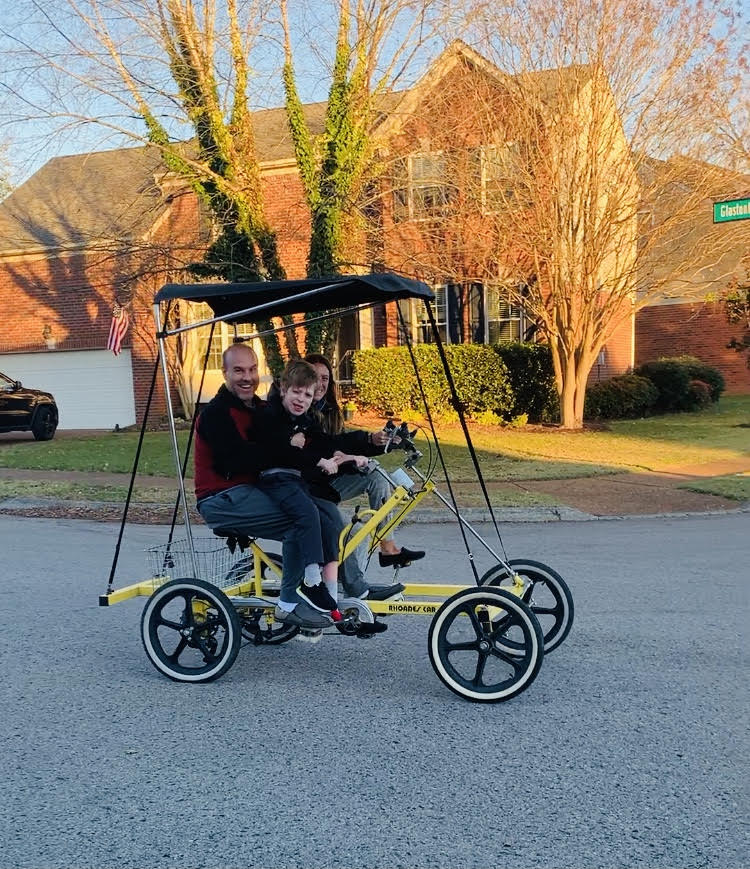 The surrey cycle is made up of two bikes attached side-by-side with a canopy on top and double steering and pedaling. Four wheels rather than the three most adaptive bikes use means more stability and separate pedals means if one rider needs to take a break, they can. To put it simply, it is a marvel to behold. Except it's also upwards of four thousand dollars if you go in for one adapted for wheelchair users.
For months it was the stuff of day dreams. The thing you add to your post-Covid wishlist and doodle pictures of on napkins. And then Jody found one on Craigslist. We loaded all the kids in the van and drove out to the country to check it out, like we were buying a horse.
It was perfect – bright yellow with a canopy and headlights and taillights, even a cupholder and a wire basket. And it was well-made, well-loved, and the older gentleman selling it offered to haul it to our house in his truck. I wanted it more than I'd wanted almost anything. But this one wasn't handicapped accessible. If the purpose was for me to ride it with Charlie, it wouldn't work.
We bought it anyway.
The fact that something doesn't start out handicap-friendly doesn't mean it can't end up that way. Jody has big plans: for a supported seat, wider pedals, Charlie's own personal horn. We will make it work for us and we will cruise the neighborhood like something out of Chitty Chitty Bang Bang and it will be the stuff of dreams but better because it's here and real. And for now, he's really digging riding in our laps around the cul-de-sac.
One lesson we have learned in caring for our child is that nothing, absolutely nothing, should limit his ability to live the best possible version of his life. And if that means taking apart what the world presents as able-bodied and putting it together again in a better, more accessible way, then so be it. We will be self-trained engineers and crafters of not only the things he needs, but the things he wishes for as well.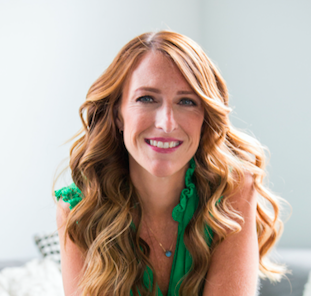 Jamie Sumner is a special needs mom, author and blogger.
Discover her new book, Unbound: Finding Freedom from Unrealistic Expectations of Motherhood.
Read her blog, The Mom Gene.
Follow her on Facebook.