After learning that your child may need a feeding tube, you probably feel overwhelmed with questions about how life will change. You may be thinking of all the ways tube feeding may limit what you and your child can and cannot do inside and outside of the home.
While in the hospital, the nutrition formula or breastmilk will often be hanging from a bag on an IV pole. This is convenient in the hospital where you can wheel around from place to place. After discharge, however, this may not be the most convenient solution.
Your child's new medical need does not mean you have to be stuck at home all day hooked up to the pole. A tube-feeding backpack will allow you and your child the freedom to leave home and take meals on the go! A tube feeding backpack contains a special pouch and ports designed to conceal and protect a feeding pump, allowing you to travel with your child's pump wherever you go. These custom backpacks are lightweight and can be used by children of all ages. From trips to the store to attending school and doctor's appointments, a tube-feeding backpack will quickly become a valuable item for your household. Your child can wear the backpack, or it can even be hung on the side of a stroller or wagon.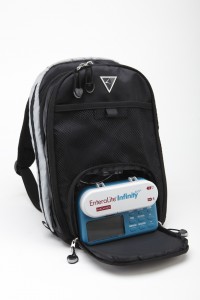 A backpack made specifically for your infinity feeding pump will be provided by Shield HealthCare with your enteral supplies order.
Using this backpack is easy! Load your pump into the front pocket of the backpack, attach the Velcro straps to your feeding bag, pull the tubing through the hole on the back of the backpack and you are ready to roll.
You can watch a video on using the backpack here 
Your local Shield HealthCare Registered Dietitian will provide you with education on how to use your feeding pump and backpack when delivering your initial supplies to you in the hospital. If you have further questions, feel free to reach out to your Shield Dietitian or your local Shield office at any stage.
Visit the Shield HealthCare Nutrition Community for more resources and articles on tube feeding, and the Grow community for resources on families of children with special healthcare needs.