Whether your incontinence is permanent, treatable or curable, there are many products available that can help individuals with incontinence manage symptoms and gain control. Products that help contain waste, protect the skin, promote self-care and allow for the normal activities of day-to-day life may be part of your prescribed treatment program. These type of products are designed to provide safe, comfortable and secure protection.
Why You Should Talk to a Doctor
Although some people find it initially uncomfortable to discuss incontinence with their doctor, there are several reasons why doing so is critical. First and foremost, incontinence can be a symptom of a treatable or curable condition. Changes in medication and/or diet, lifestyle changes, bladder retraining, pelvic floor exercises and even surgery may be successful interventions recommended by your doctor.
If your incontinence is permanent, doctor-recommended treatment options may include products like those below – which can help to reduce incontinence-related anxiety, restore independence and return to the normal activities of day-to-day life. Your doctor can help you choose the product that works best for your needs. Below are some of the types of products that your doctor may recommend and are currently available.
*It is important to remember that pads for menstruation are not designed to absorb urine and will not work as well as products designed for incontinence.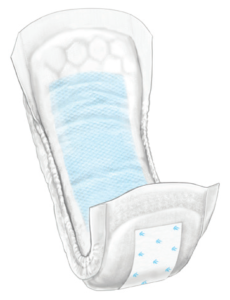 Shields, Liners or Pads: These are recommended for light to moderate loss of bladder control and are worn inside your own undergarments. Liners and pads come designed for both men and women, providing absorbent protection where it is anatomically needed most. For full accidents (also called a "void"), a disposable brief will provide better protection.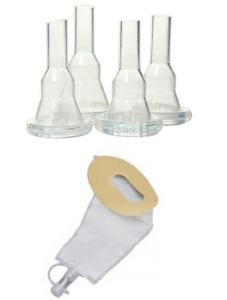 External Catheters: For men, this is a flexible sheath connected to a tube leading to a urine collection bag. These are also called condom catheters because they roll over the penis, similar to a condom. Accurate sizing is very important to prevent leaks and skin irritation. Your doctor or your medical supplies company should be able to provide you with a sizing guide.
For women, female external urinary systems include non-adhesive "wicks" that tuck between the legs and attach to a low-pressure pump, and urinary pouches that attach to a leg bag/drainage bag with a hydrocolloid skin barrier that adheres securely.
Disposable Undergarments: Diapers, briefs or adult pull-ons are recommended for moderate to heavy incontinence. They provide high-volume leakage protection while being virtually undetectable under clothing, and are made from a comfortable and breathable cloth-like fabric. Some disposable garments are gender-specific, while others are unisex. Pull-ups work well for individuals who are mobile and/or dexterous, while diapers or briefs with tabs have absorbent areas that work well when the wearer is horizontal.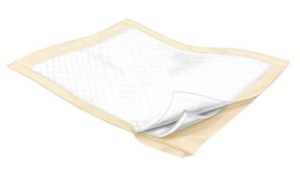 Underpads: These disposable absorbent pads help protect surfaces like bedding, sofas and chairs. They are flat and rectangular in shape, and are also known as "Chux" or "bedpads." Along with an absorbent core, underpads are normally designed with plastic backing and a cloth-like topsheet.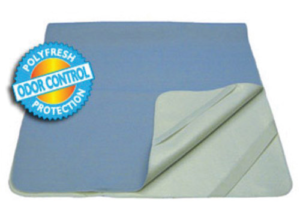 Waterproof Sheeting: Quilted waterproof sheeting is designed to protect the mattress at night. The waterproof sheeting, also known as a mattress protector, can be washed and reused. Waterproof sheeting is designed with heavy-absorbent material and may include antimicrobial construction.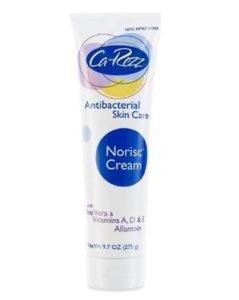 Moisturizing Cream: This type of protective moisturizer is designed to protect skin from damage by urine or stool. It promotes comfort and healing for skin that is prone to irritation. Look for a moisturizing cream that is non-greasy, easy to apply, pH balanced, and gentle enough for pressure-sensitive areas on the skin. Some moisturizers are enriched with Vitamins A, D, and E for skin health.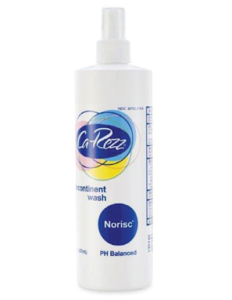 Skin Cleansers: Skin cleansers neutralize and deodorize skin after contact with urine and stool. Use a skin cleanser that is designed to be gentle and non-irritating. Look for a cleanser that doesn't require soap, which can strip your skin's natural protective moisture barrier. Many incontinence cleansers are alcohol-free and pH balanced for sensitive skin. Some cleansers are available as a spray, which helps to minimize skin irritation from rubbing too frequently.
More Articles Related to Incontinence Care: