Above: Shield HealthCare's Clinical RD team attending the March 2022 ASPEN Nutrition Science and Practice Conference.
Employee Spotlight: Kristin Sessums, MS, RD, LD, CDCES
As part of Shield HealthCare's mission of service, we believe in supporting our communities in ways large and small. The formula shortage has affected many familes, but none more severely than those with medically-complex children who have tailored nutritional needs. Like most organizations, we acutely feel the strain of the continued formula shortage and are making every effort to provide essential supplies to our customers. Shield HealthCare's clinical team of Registered Dietitians have been working tirelessly to support formula-dependent patients on a case-by-case basis. Recently, Registered Dietitian Kristin Sessums embodied Shield's mission of service by partnering with Any Baby Can of San Anonio to help local families of children with special healthcare needs. Great job, Kristin!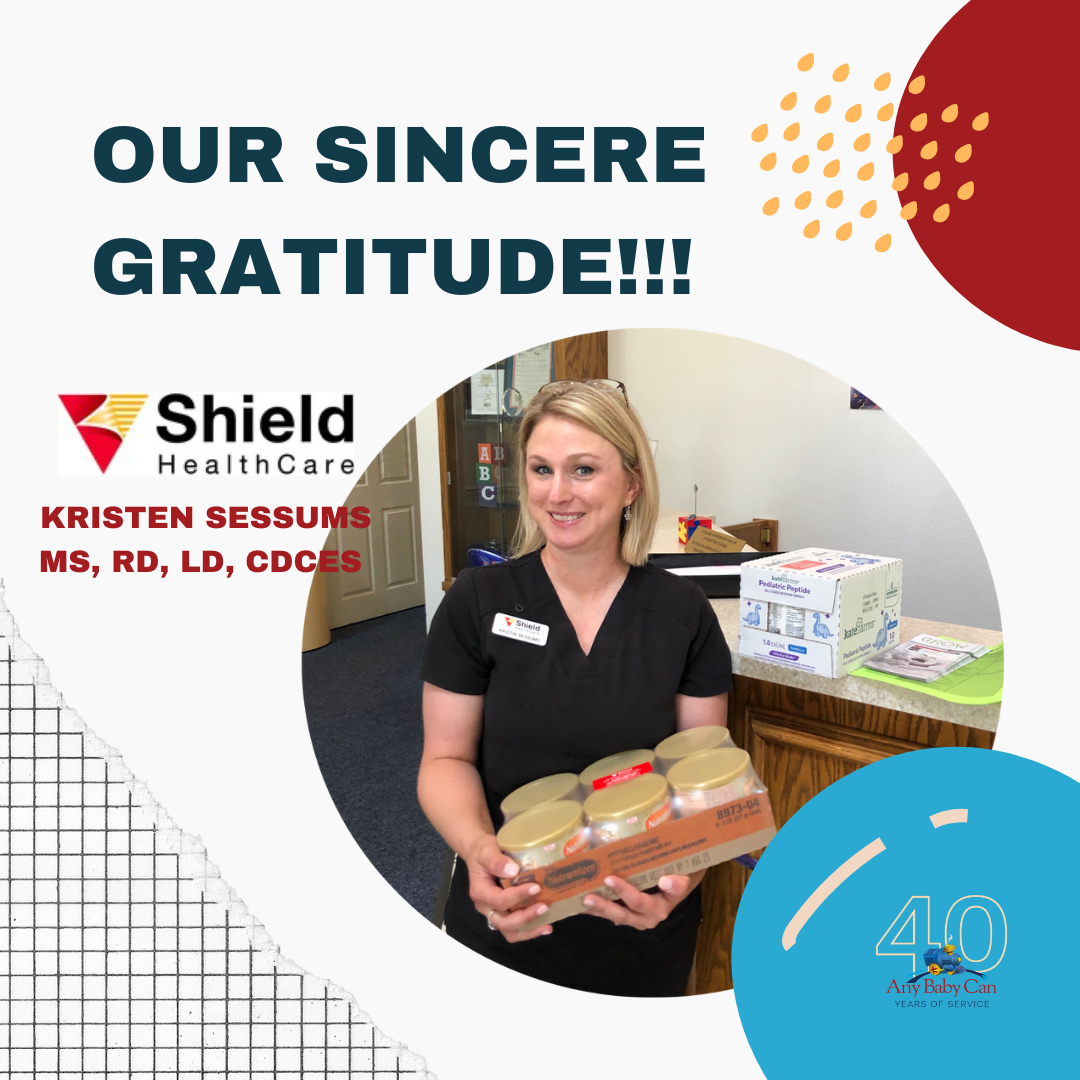 About Any Baby Can
Any Baby Can is an organization that assists families of children with special healthcare needs in San Antonio and surrounding areas. Their services are provided at no cost – regardless of income – to families who have a child birth through 17 years of age with any medical diagnosis, including a chronic illness, disability, developmental delay, or health risk. For the past 40 years, Any Baby Can has been providing case management support and life-changing resources for families with children and youth facing serious health or developmental challenges. You can learn more about them here:  www.anybabycansa.org/.
About Shield HealthCare
Since 1957, Shield HealthCare has served the medical supply needs of patients at home with excellence, compassion and exceptional service. We offer direct billing to Medi-Cal, Medicaid, Medicare and managed care plans.
Shield HealthCare benefits include on-staff product experts, including Registered Dietitians and Lifestyle Specialists to support patients and their families. From our 2021 annual customer survey of more than 3,000 active customers conducted by Press Ganey Associates Inc., we are proud to say that 98% of our customers would recommend us to friends and family.
Shield HealthCare is firmly committed to community involvement, supporting a variety of health organizations and causes each year. We also support health care professionals and the caregiving community through a robust library of diagnosis-focused educational materials, webinars, educational in-services, and more than 2,300 articles and videos featured in our vibrant, interactive online communities.