My husband's unusual request for a Father's Day gift surprised me…until I stopped and thought about all he does for our child with cerebral palsy and for our whole family.
There have been hammocks and books on father-son projects and extravagant Indian buffets. There have been cakes in the shape of a frothy beer and actual beer—the trendy kind you can only get at the brewery where it was lovingly yeasted. There have been DIY phone chargers that look like Legos. There have been baseball games and impromptu neighborhood grill-outs. But when I asked my husband what he wanted for Father's Day this year, his answer made me laugh. Well, roll my eyes, and then laugh.
His request? "A massage."
My response: "A massage? Like at a fancy place with herbal tea and slippers?"
He nods, folds his arms, and says: "You like them."
Well, yes, yes, I do. But this was my husband, the dude with the half-grown mountain man beard and a fridge full of those craft beers. He thinks Nutella should be a food group and buys 95% of his clothes at Costco. It was just…surprising.
But then I thought about this past year and what his day-to-day looks like with our kids. Our oldest, Charlie, recently turned six. He has cerebral palsy and is in a wheelchair. He's a heavy kid. It's a heavy wheelchair. And when we are all together, my husband is the one, more often than not, who is hauling them both in and out of the van, in and of the house, in and out of the restaurants and parks and church.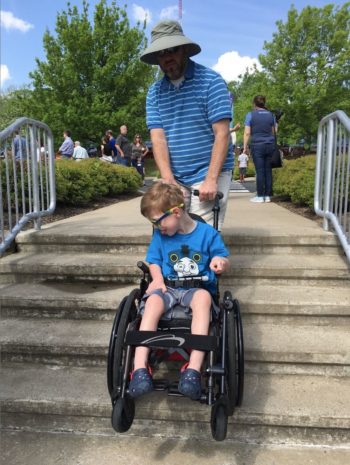 He's also the one at the end of the day to make the last climb up the stairs for bed. By this point, I have made approximately 8,746 trips up and down those stairs with Charlie, and so, by nightfall, I am done. Charlie waves at me, his legs dangling, while his daddy carries him up and up into the higher elevations of our house. I wave from the living room floor, where I am picking up the debris of the day—toys, books, tissues, a sippy cup full of milk that rolled under the couch twelve hours ago.
The sippy cup belongs to one of the twins, Charlie's four-year-old brother and sister. They think their dad is a trampoline, a hammock, a chair—always at the ready to be bounced on, swung from, sat on. Charlie digs it too. Their current favorite request? To be flung, by the legs, onto couches and beds. All three of them. And he does it until he is sweating and panting and on his hands and knees in the middle of the living room. He knows better than to lie down. You lie down in our house, you become part of the floor—literally letting them walk all over you.
When he stands up first thing in the morning, there is a series of audible clicks—knees, back, neck. He has to unravel himself like a transformer. And still he carries our not-so-little people on his shoulders on nature walks and he pulls Charlie's wheelchair backwards up steps when there is no elevator or ramp. And he does it without complaint—well, less complaints than I would have.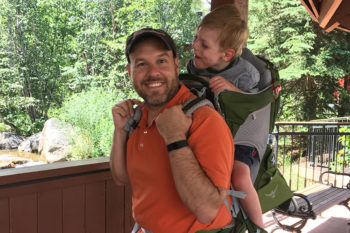 And so, this Father's Day I have booked a massage at a fancy spa with robes and slippers and aromatherapy and I have promised to limit my teasing about it to once a day. Because, if anyone has earned an hour to work out the knots and take a nap, it's him.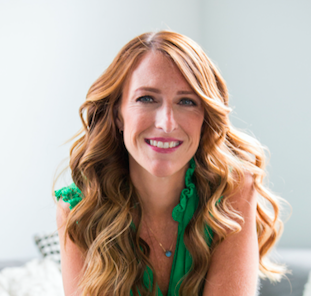 Jamie Sumner is a special needs mom, author and blogger.
Discover her new book, Unbound: Finding Freedom from Unrealistic Expectations of Motherhood.
Read her blog, The Mom Gene.
Follow her on Facebook.
More Article's Related to Dads of Children with Special Needs: